10 Boho living room ideas for a laid back space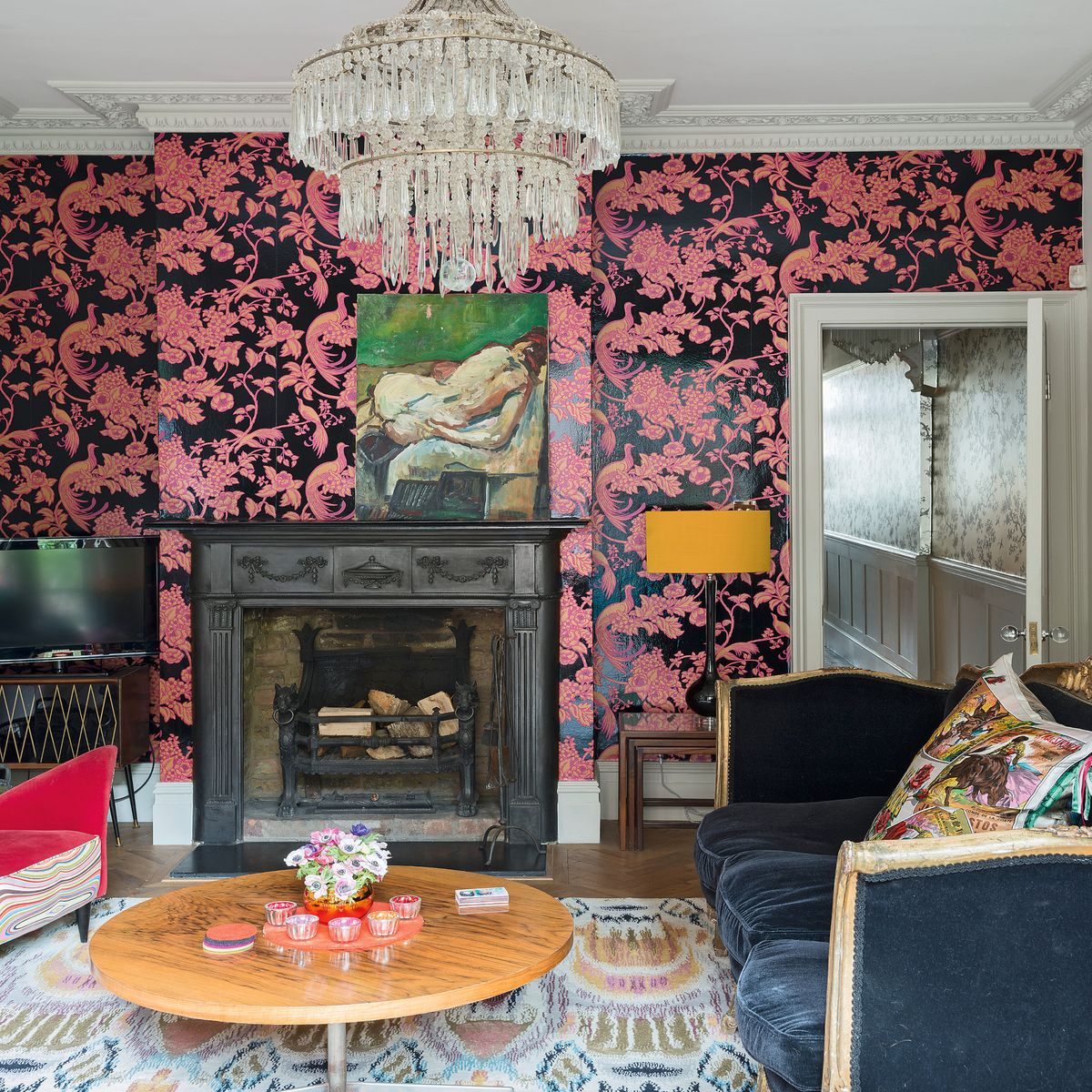 Boho living room ideas are all about creating a relaxing, free-spirited space with no hard and fast design rules. Boho style combine a mix of natural elements, different colours, patterns and textures, but most importantly it is about what looks and feels right to you. 
Boho is the perfect style for you if you want living room ideas that aren't about brash, bright colours or a meticulously styled space.  'The boho look can be adopted across the home simply by piecing together contrasting textures and patterns. For example, handwoven rugs coordinated with rugged wood or brass homeware to give that rustic, warming feel,' says Joanne Evans, marketing manager at Homescapes (opens in new tab).
'If you'd rather not commit to changing the whole room, inject small splashes of character through elements such as a mandala-style rug underneath the dining table, hanging planters or tasselled throws.' 
Boho living room ideas  
The beauty of boho is that it can be adapted to both modern living room ideas and classic rustic styles. Sam Greig, head of design at Swoon (opens in new tab) says, 'The most important factor in bohemian design is creating a cosy and inviting ambience, so collating a set of warm, personal accessories in your living room is a wonderful way to introduce guests to your laid-back vibe.' 
No matter if you prefer a monochrome living room or are drawn to warm desert tones, you can find inspiration in boho living room ideas. These ideas will also look good for boho bedroom ideas too and vice versa. 
1. Showcase personal items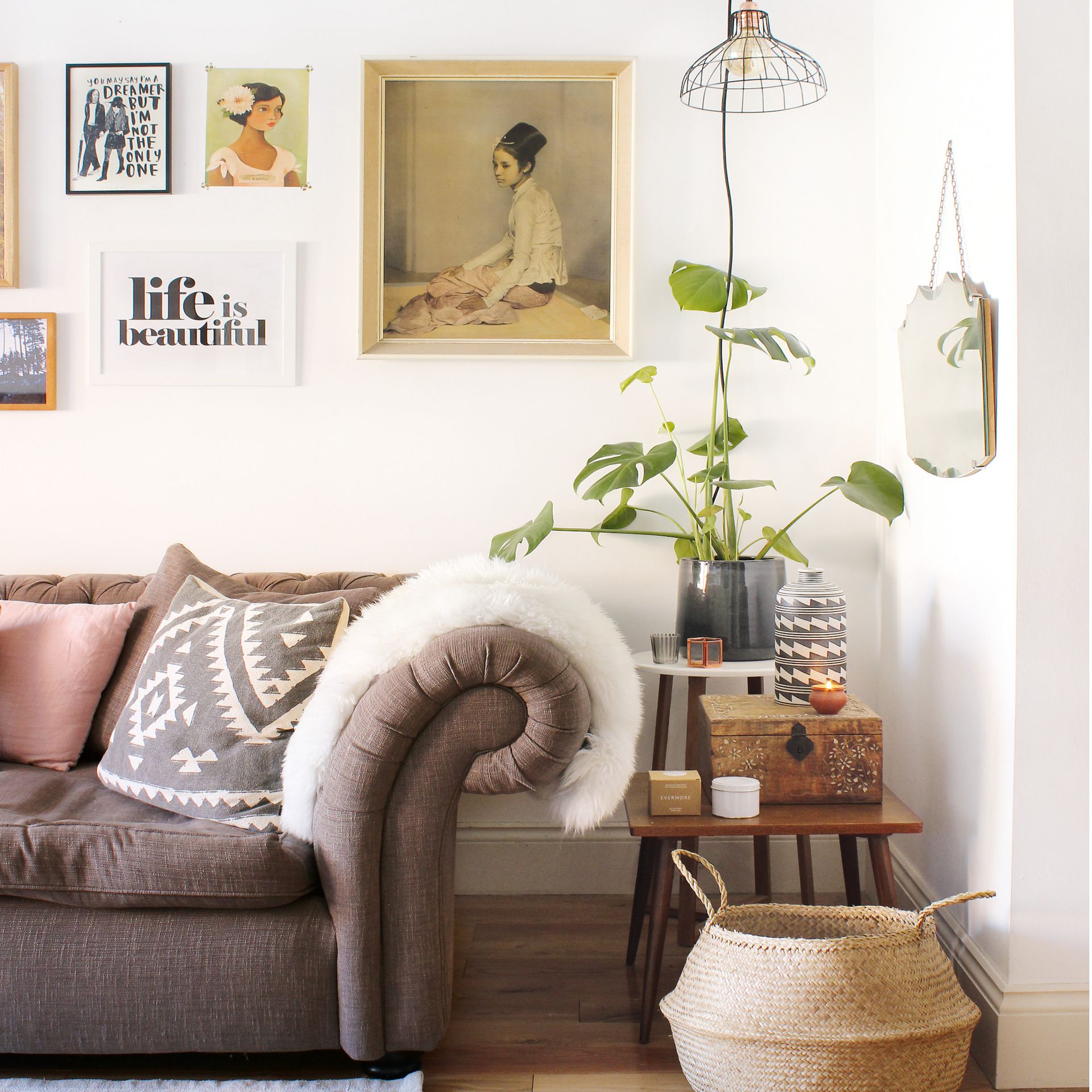 The bohemian style should be one that allows you to have fun with your interiors and showcase your personality. Have fun with your living room wall décor and display personal items that have meaning to you and will spark conversations. 
Don't worry if that leads you to having a varied mix of images, artwork, mirrors or tapestries on your wall, it's all about reflecting who you are. If you like to collect old ticket stubs or postcards, create a collage of them in a large picture frame to reflect all the places you have been and people you have met. 
Rebecca Snowden, interior style advisor at Furniture Choice (opens in new tab) says, 'Showcase trinkets from an exotic flea market reminiscent of an enjoyable trip, or artwork bought at an antique store as great cultured talking points. Take the opportunity to show what sparks joy and is meaningful to you! 
'If you love playing the guitar for instance, incorporate it into a cosy corner of your space. The modern boho style in calming neutrals is carefree and comfortable, yet soothing and natural – a sweet spot where calmness and creativity meet.' 
2. Mix textures and patterns
If you're the type of person that can never decide what pattern or print you want for your living room wallpaper ideas, mixing them all is the way to go. 
'The great thing about bohemian interiors is there are no right or wrongs when it comes to colours, textures and patterns. Although warm and earthy colours like browns, greens and greys are often used as base colours, you can combine these tones with bright shades like fiery oranges or electric blues for that pop of colour,' says Lisa Cooper, head of product at Thomas Sanderson (opens in new tab).
'Feel free to mix patterns and textures that conventionally might not go together; this is what makes the style so unique,'
If you're wary about clashing patterns and prints and don't know how to start, keep things cohesive by repeating a few key colours. For example, take a Morroccan-inspired rug and select a couple of colours that are also seen in your floral wallpaper or stripped curtains; so there is something tying your room together. 
3. Use natural materials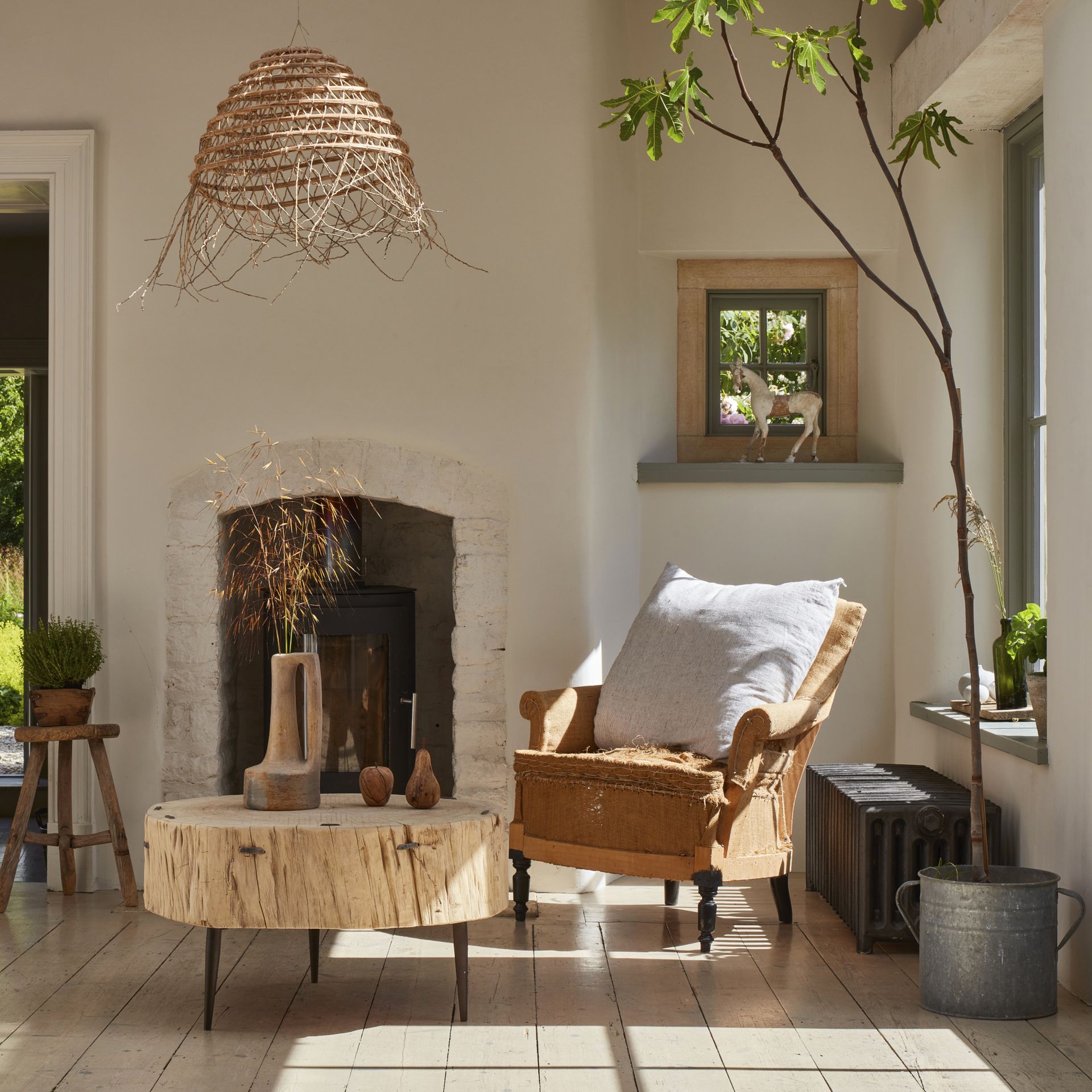 The boho style is about making your living room look like it has just been thrown together and is full of character. 
'Place emphasis on natural materials like wood, jute and rattan for a relaxed bohemian vibe at home. Complement your space with lots of indoor plants for freshness and a burst of life. And look for trailing plants or creepers to bring out modern boho's free-spirited,' says Rebecca Snowden from Furniture Choice (opens in new tab).
This is not the time to go for a minimalist style and mid-century living room ideas fit well when using natural materials. Think wooden and rattan sideboards, raffia stools and lampshades and linen curtains. Seagrass is another material that adds an instant injection of boho and looks great as wall decor. 
4. Incorporate greenery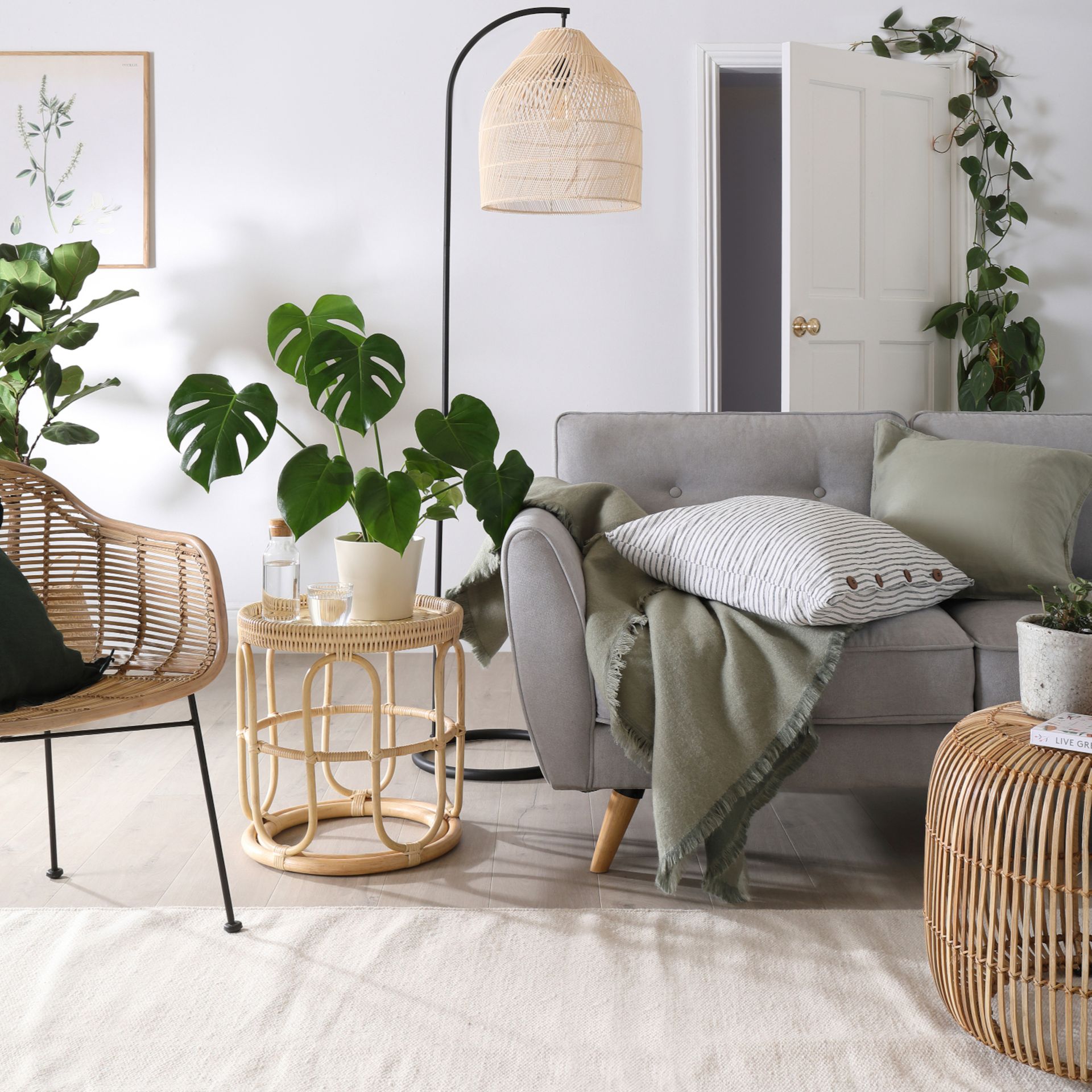 Embracing natural materials while adding a pop of colour can be done by incorporating plants in your living room. Living room houseplant ideas are essential to complete a bohemian room. 
Potted, hanging, large or small, choose a variety of plants with various shapes and colours. Fill any empty corners with floor plants, use hanging plants to draw the eyes upwards and add plants at eye level along shelves and on side tables. 
Emily O'Brien, founder of Novaco design (opens in new tab) says, 'Plants are an essential element of the boho style. Consider adding plants like succulents or hanging plants to add a touch of greenery and natural texture to your space.'
'Spider plants are perfectly suited to a bohemian interior design aesthetic – they bring funky foliage to match the relaxed and eclectic energy. Over time, spider plants grow spindly offshoots to hang down and create a beautiful waterfall of baby spiderettes. This free-flowing characteristic of the plant complements the carefree spirit of bohemian design,' says Laura Rich, product developer at Furniturebox (opens in new tab). 
Other plants that fit the boho style include monsteras, ferns, cacti, philodendrons and pampas grasses. 
5. Mix in antique pieces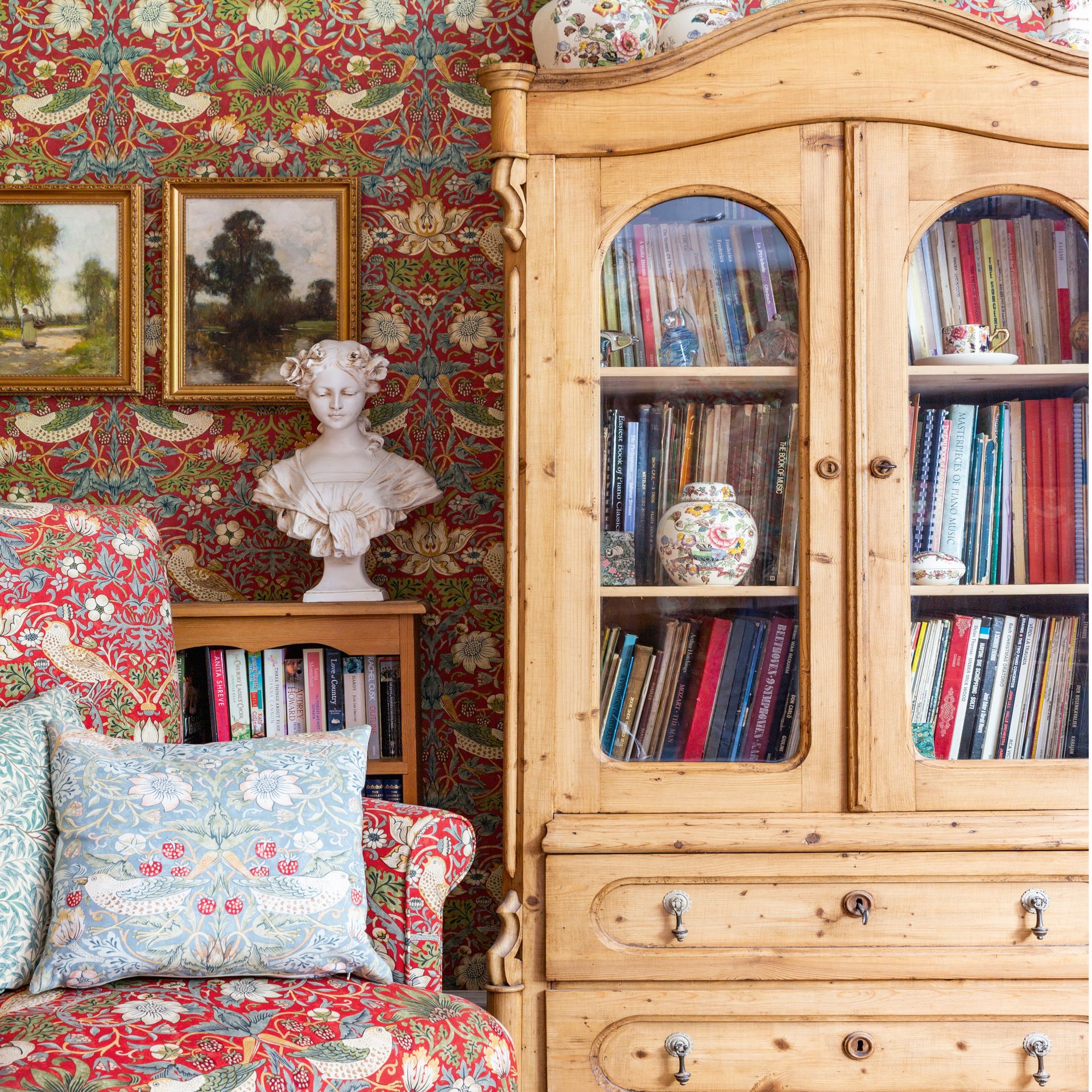 A bohemian room tells a story and what better way to do that than filling the room with one-of-a-kind antique pieces. Much like with vintage living room ideas now is the time to raid the loft and antique fairs to see what hidden gems you can find. 
Buying second-hand pieces look good and can be made from better quality materials, which is affordable and more sustainable. Rugs, wooden tables, light fixtures and leather armchairs. 
Interior designer Emma Wood (opens in new tab) advises keeping an eye on local auction houses and antique markets to buy beautiful unique items to decorate your living room. 'Look for original paintings in distressed frames. Mount a collection of botanical prints or even pages from a vintage magazine to create interest on the wall. Buy what you love, not what's in fashion.'
6. Include a striking rug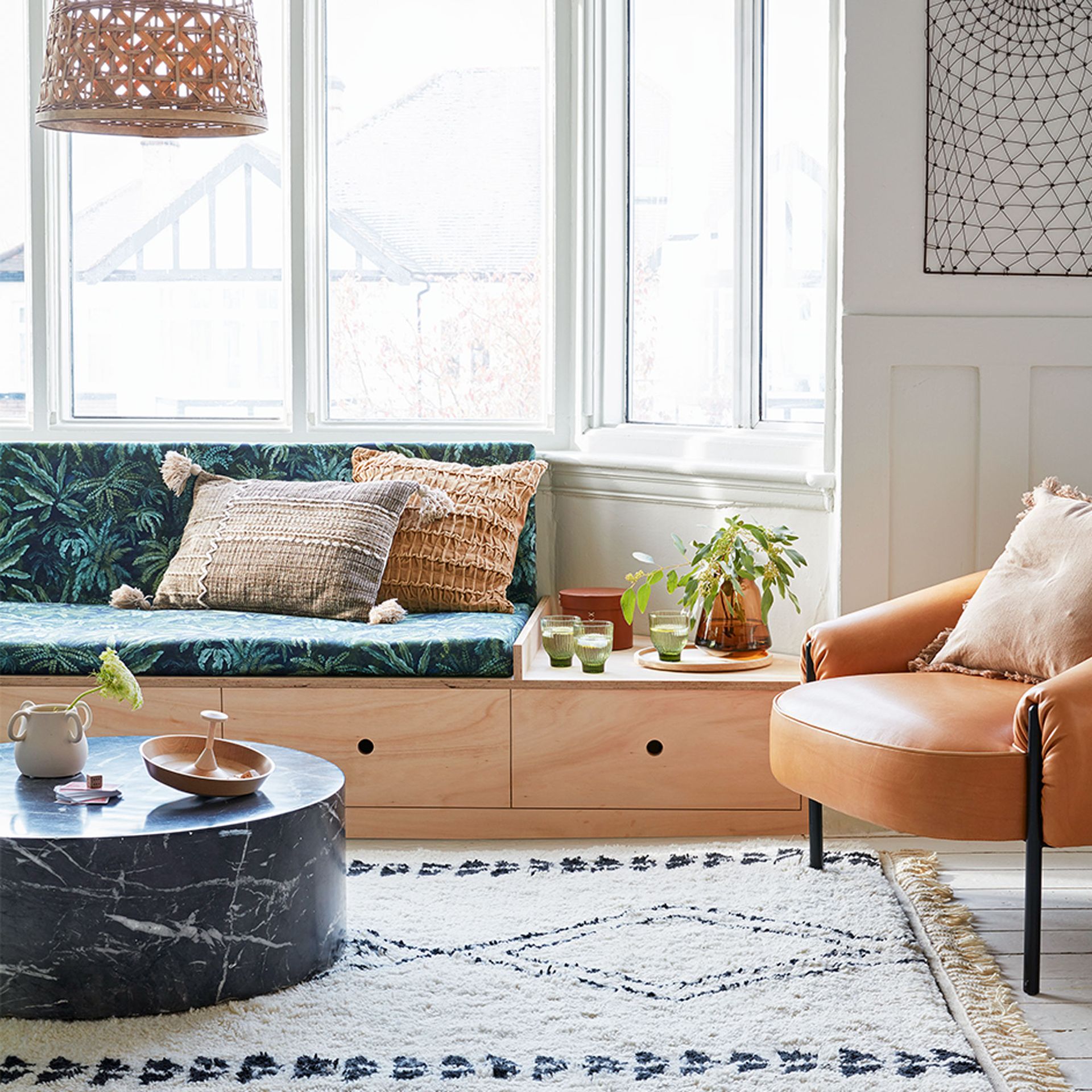 A popular and easy way of incorporating the boho style into your living room flooring ideas is by using rugs. Layer different rugs together and mix different colours and patterns to add texture to the room. Handwoven rugs add a personal touch to the space and provide extra warmth. 
'A great way to achieve the boho vibe in your living room is by adding a rug,' says Matthew Roe, director of London House Rugs (opens in new tab). 
'Not only do they add texture to a room, but they help to inject colour into any décor. Popular Boho-style rugs include traditional berber, contemporary berber and Anatolian kilim rugs. These rugs come in a range of colours and styles to suit any Boho room and pricing varies depending on the size, design and materials used. Whichever style you choose, a high-quality rug is a great investment and a timeless addition to the home.' 
7. Go for soft lighting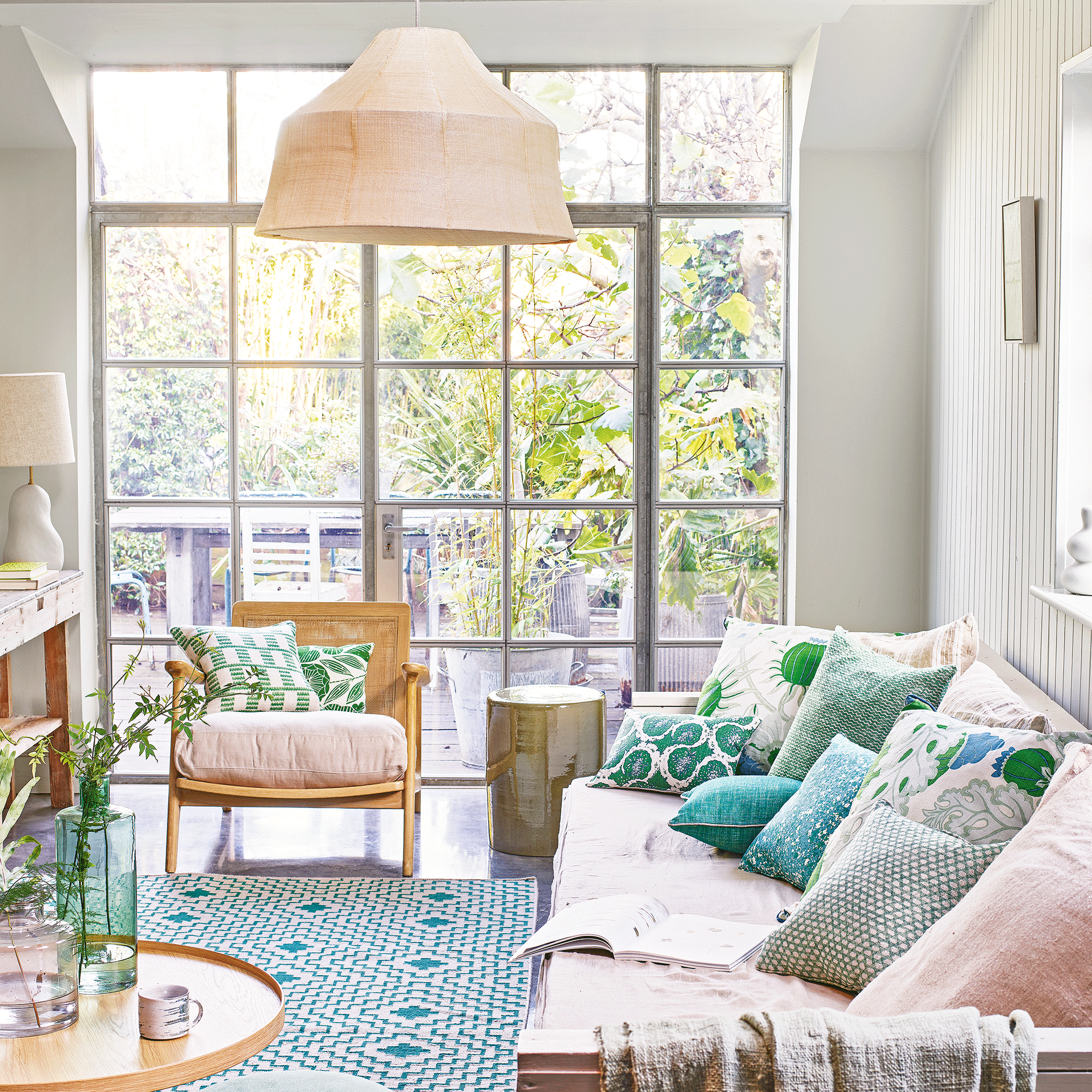 Handcrafted lighting is unique, durable and made to last while also being good for the environment and works perfectly for the boho style. Adapt your living room lighting ideas by opting for rattan pendant lights, traditional chandeliers, and tasselled or beaded lights which look beautiful in earthy and gold tones that match the boho style.
'When it comes to incorporating lighting into a boho-style room, the possibilities are endless. Chandeliers, pendant lights, wall sconces, string lights—all of these can be used to create a unique look that reflects the eclectic and eclectic-bohemian spirit of this style,' says Mara Rypacek Miller, managing director at Industville Ltd (opens in new tab).
'Chandeliers are the perfect way to add glamour and sophistication to any boho-style room. Choose one with intricate detailing such as ornamental glass bulbs for an opulent touch. Or opt for a more rustic design with metal accents for an earthy, natural vibe.'
8. Choose midcentury furniture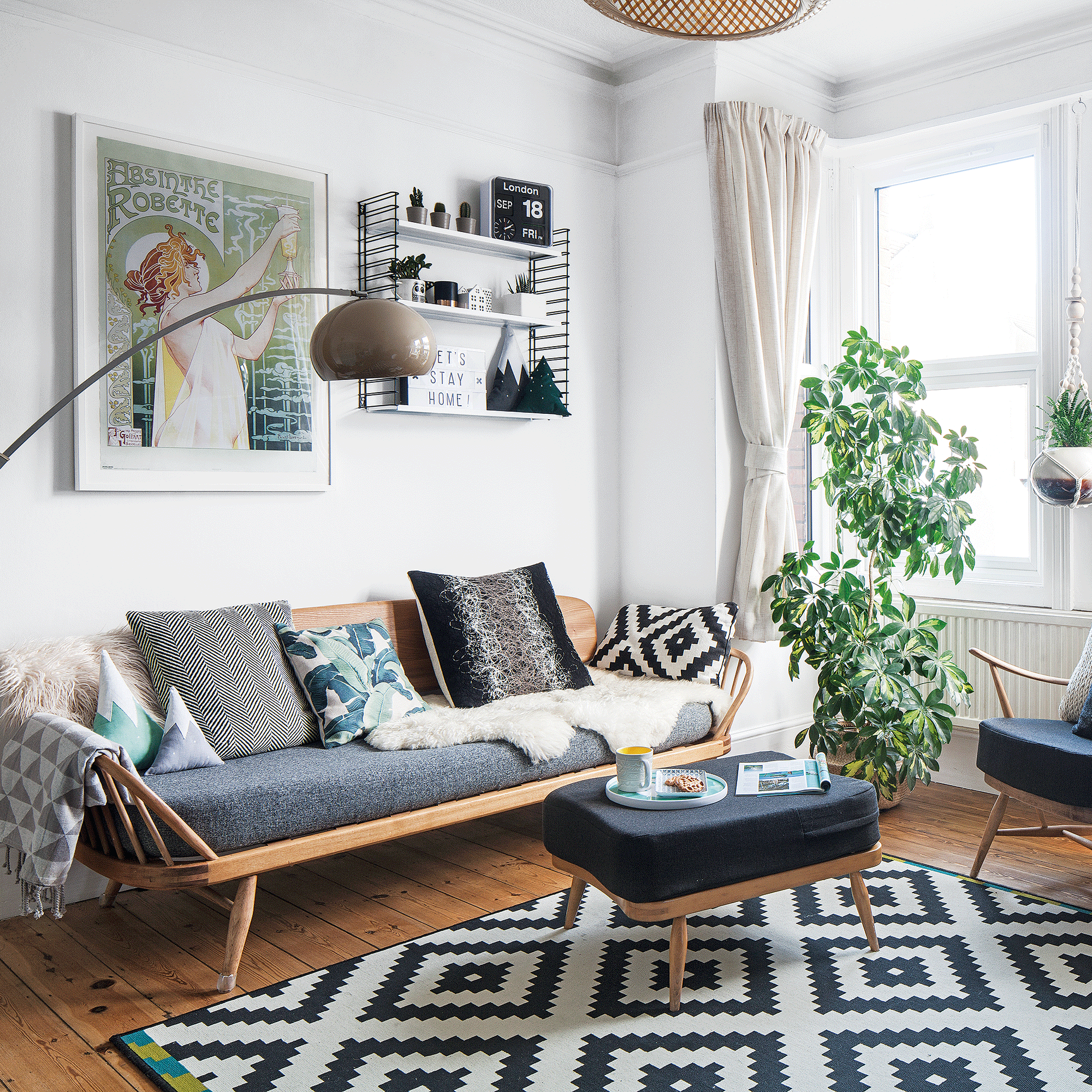 Midcentury furniture is perfect to include in your boho living room ideas and will be a timeless addition. Most midcentury furniture is often made from teak which is known for its rich colour and durability. Rosewood and oak are also common materials for midcentury furniture such as tables, desks and storage cabinets. 
Choose classic midcentury style pieces and soften them up with a mix of different textiles and patterns. Incorporating midcentury living room ideas with wooden furniture pieces is a great way to incorporate the natural materials that the boho style is known for. 
9. Include a hanging chair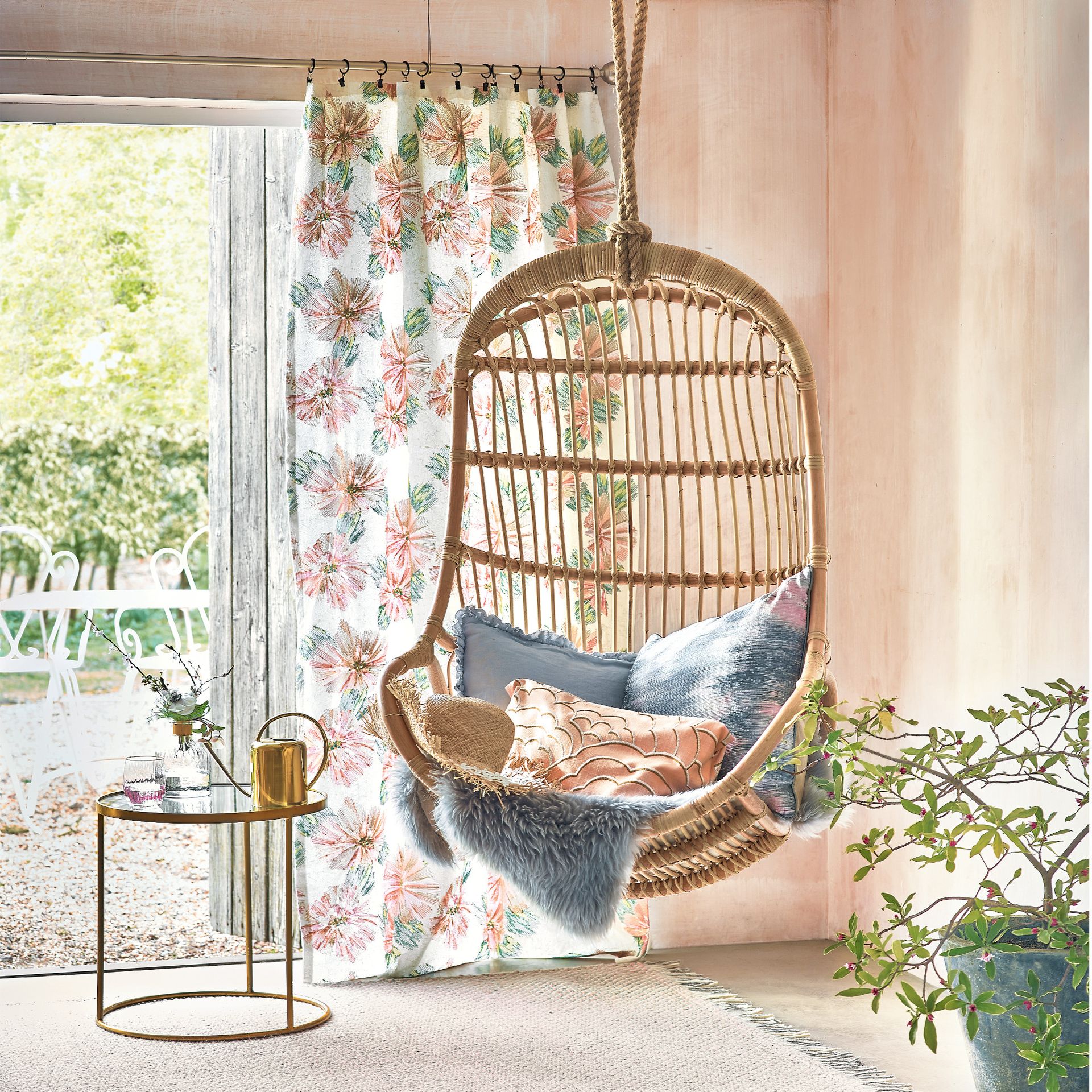 A hanging chair is a fun and comfortable way to relax and sit in style in your living room. To keep the boho style, pick a hanging chair in a woven or wicker style which will blend in seamlessly with other natural materials and eclectic patterns. Take the boho style one step further by attaching tassels to the bottom of the chair.
'Rattan is a natural material that brings a bohemian-inspired feel to a living area, popularly seen in hanging chairs. A rattan swing chair is an eye-catching and unique feature that brings a cosy feel to any space,' says Anna Elkington, interior expert at Melody Maison (opens in new tab). 
10. Hang eclectic artwork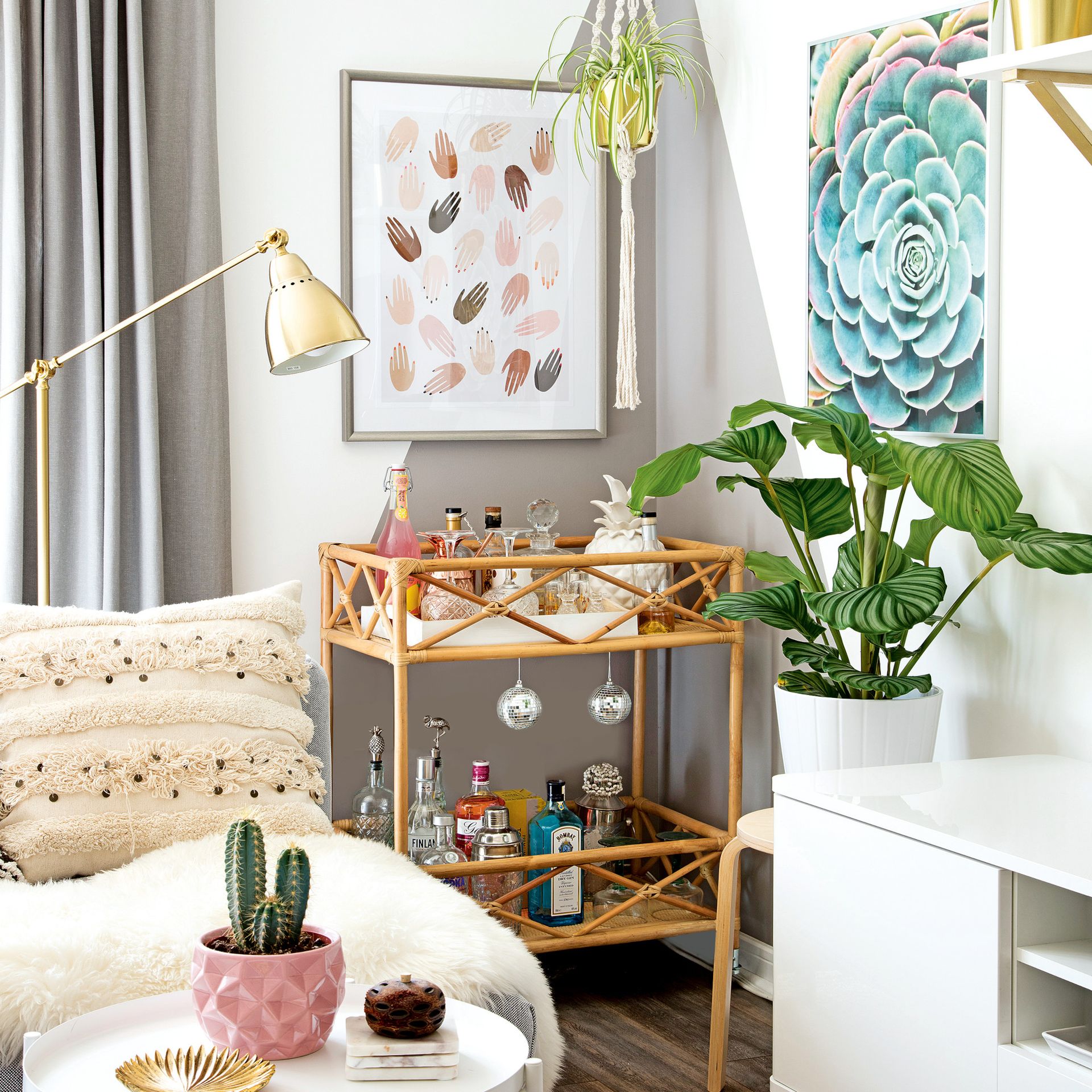 Artwork is an easy way to give your living room a boho style twist, plus, it's a great budget living room idea. This is the time to show your creativity and go bold with bright and eye-catching living room wall art. 
Rebecca Snowden from Furniture Choice says, 'Rattan artwork is a great accessory choice for a bohemian interior. You could also learn how to DIY a modern tassel wall hanging as a crafty nod to the relaxed bohemian spirit.'
'Boho interior is all about celebrating individuality and uniqueness, a great way to express yourself is through art. Different colours, sizes, shapes and textures can transform what was a plain wall, into a creative and eye-catching centrepiece.' says Anna Elkington from Melody Maison. 
How do you make a living room boho? 
The great thing about boho living room ideas is that there are no rules, you have the freedom to create a relaxed and eclectic space that is personal to you. When considering how to design a living room with a boho twist the important thing is creating a space that feels warm, cosy and laid back. Layer different materials such as a wooden chair, rattan sideboard and berber rug. 
Opt for soft layered lighting with table lamps, floor lamps and wall lamps, harsh overhead lighting will overpower the space. Earthy tones such as brown, cream, sage and burnt orange work well as a background colour for the room and bolder prints and patterns can be layered on top. 
'You can make a living room boho by mixing together a multitude of natural prints, geometric fabrics and floral or paisley patterns. If bold colours aren't really your thing, the same look can be achieved through subtler or earthy colours like olive green, rusty orange and mustard yellow. Adding vintage items or trinkets collected on your travels can help to polish off the look of your living room,' says Lee Trethewey, home furnishings expert at Sustainable Furniture (opens in new tab). 
'The boho aesthetic can be modernised for your living room by using clean lines and having a statement furniture piece, such as a bold textured sofa, to anchor the room. Straight line furniture is easy to add, offering a sleek look without distracting from your statement piece. 
'Accessorise with vintage and handmade decor. These small touches can bring character to the room for a more lived-in style. Aim for natural wood pieces and wicker, or metallic accent planters or candlestick holders.'
What is a boho-style living room? 
'Both unconventional and free-spirited – a boho-style living room embraces the sentiments of a relaxed, global-inspired interior, providing a distinct and characterful charm. It's a look that incorporates a mix of texture, pattern and earthy colour palettes, such as green, orange, yellow, and brown resulting in a unique and intriguing space,' says Sarah and Sally Wilkie, founders of Home Barn (opens in new tab).
For a more modern-inspired boho living room, make use of dried foliage and botanics and pair them with terracotta vases. Use furniture with clean lines and stick to a mainly neutral colour palette. However, go bold with a patterned rug in the center of the room to keep the focus there instead of at the edge of the room.