6 coffee table alternatives to consider for your living room |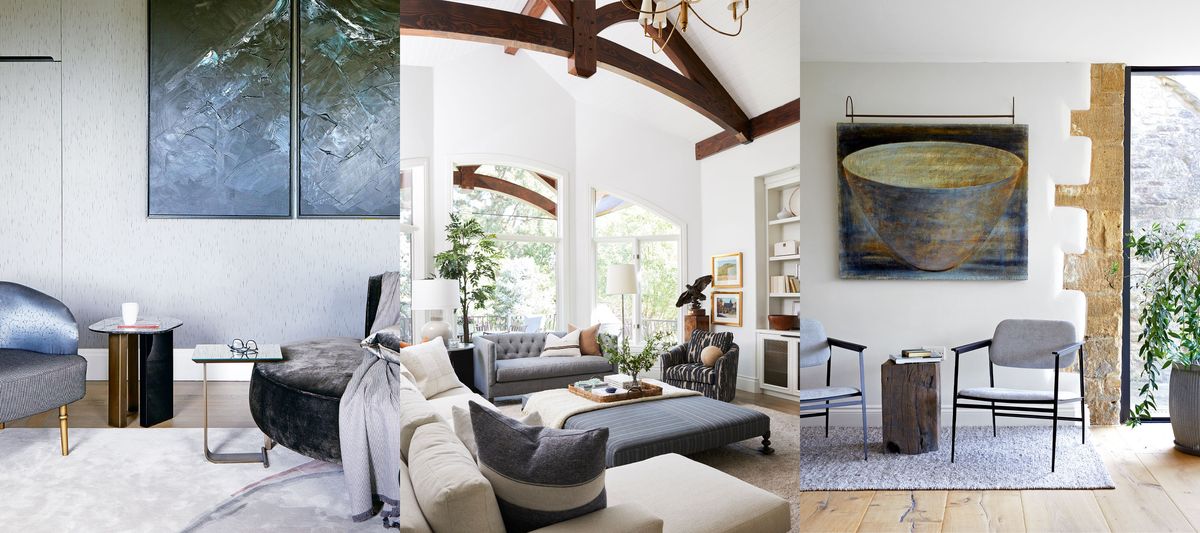 A coffee table is, for many, an essential piece of furniture for the living room, but why not take a different approach when choosing a design for your space and embrace a more modern and unique coffee table alternative?
Practical and beautiful, a coffee table can pull together an entire living room scheme, creating a central design feature in which to position other furniture around, as well as providing a practical surface area to store and display objects.
If you're exploring living room furniture ideas and are in need of some refreshing inspiration, we have curated a collection of coffee table alternatives to inspire you to think beyond choosing a classic coffee table design.
Coffee table alternatives
From beautiful vintage trunks to sleek side tables and oversized ottomans, there are so many fun and creative options to consider for coffee table alternatives for the home, so let us guide you through our top picks.
1. Opt for a versatile ottoman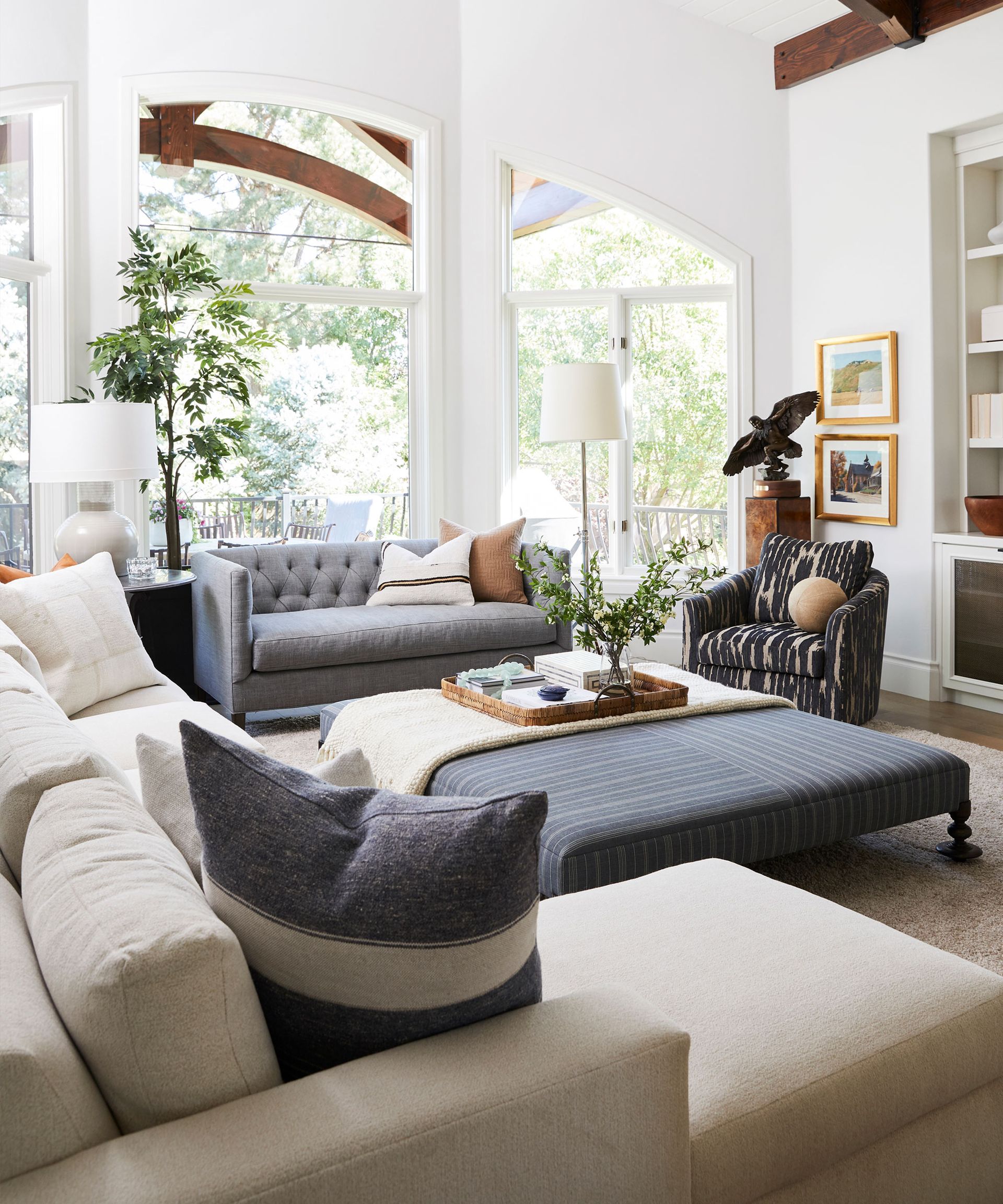 An ottoman can be an incredibly versatile piece of furniture, and it is often the most popular coffee table alternative to embrace in the home. 
Serving as a footrest, additional seating, and providing a perfect platform to rest down books, drinks and decorative accessories and ornaments, there are many ottoman ideas you can consider for a coffee table alternative.
We love this oversized, square ottoman design in this bright living room, designed by Jessica Bennett of Alice Lane Interior Design (opens in new tab), and how it has been elegantly styled and enhanced by a cozy throw and decorative tray, a great example of coffee table decor.
Bennett says of this living room design, 'we blended warm and cool tones with cozy textures in this room to create an inviting space for the family to entertain and hang out. It can easily seat a large group comfortably for all the parties they host.'
If you're wanting to bring in an extra element of pattern, color and tactile texture to your space, then embracing an ottoman as a coffee table alternative can be an ideal choice.
Jessica started her creative journey at Utah State University. Her studies there led to her work in an ad agency as an art director but building her home brought back her earliest passion: interior design.
In 2008, Jessica opened the doors to Alice Lane Home Collection, their first retail store, which has gone from strength to strength.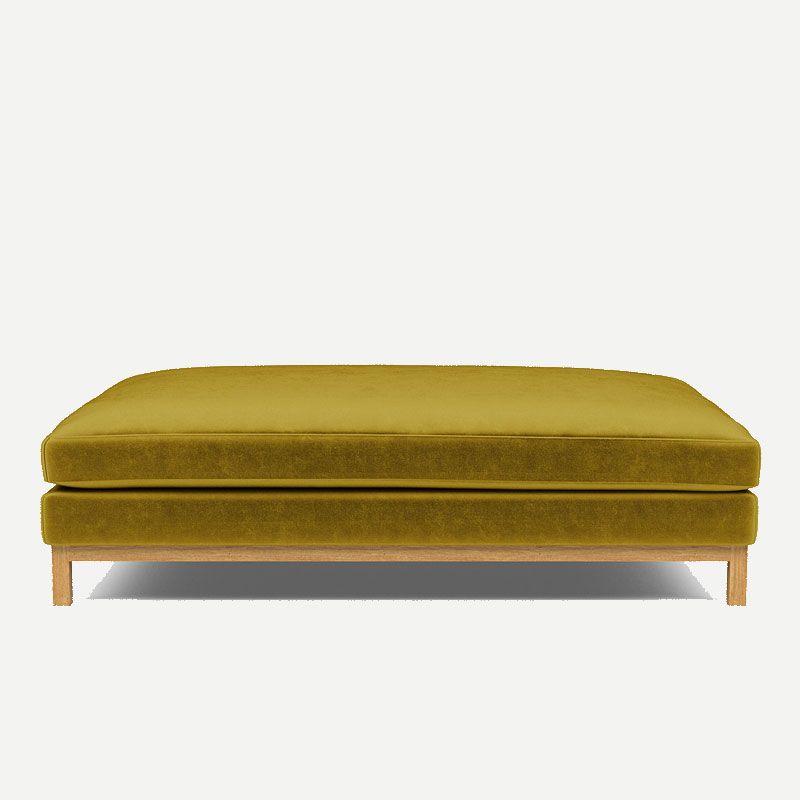 Available in a large selection of fabrics and colorways, this oversized square ottoman from Interior Define embraces a simple and relaxed style.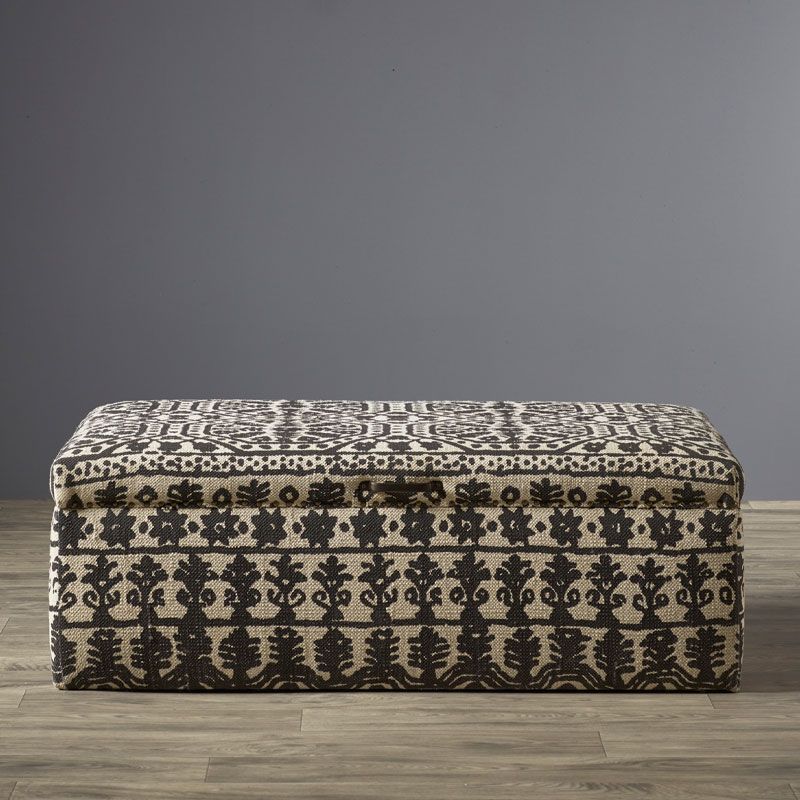 (opens in new tab)
Cranesbill Upholstered Ottoman – Soft Charcoal
Featuring a beautiful, abstract patterned design, this large ottoman can open up, allowing for you to store away blankets, books, and more.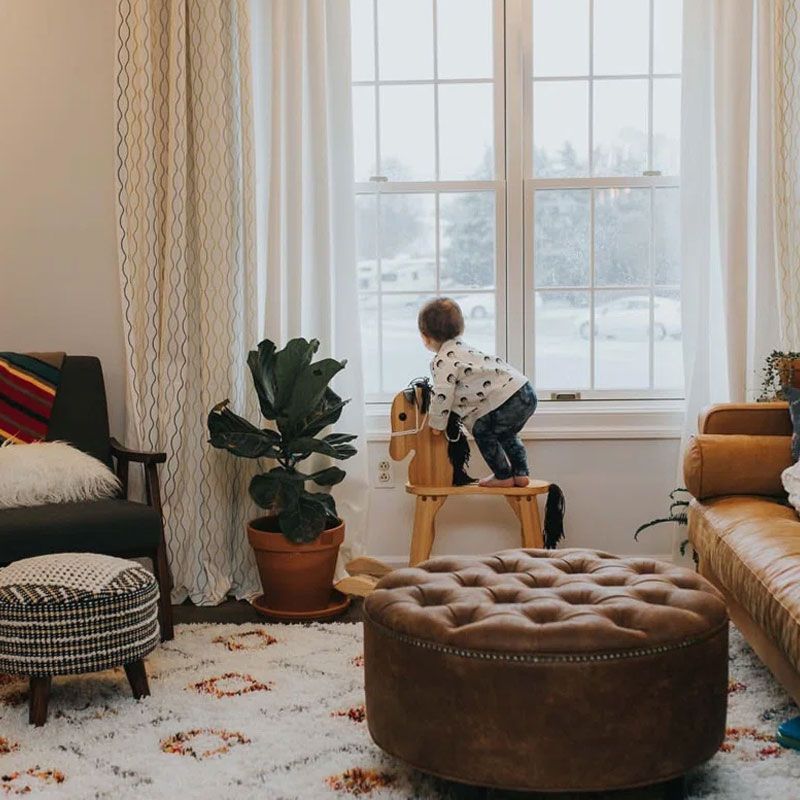 (opens in new tab)
Crafted from durable vegan leather, we love the rounded silhouette of this ottoman, with the design finished with stylish diamond tufting and a brass color nailhead trim.
2. Incorporate a pouf – or two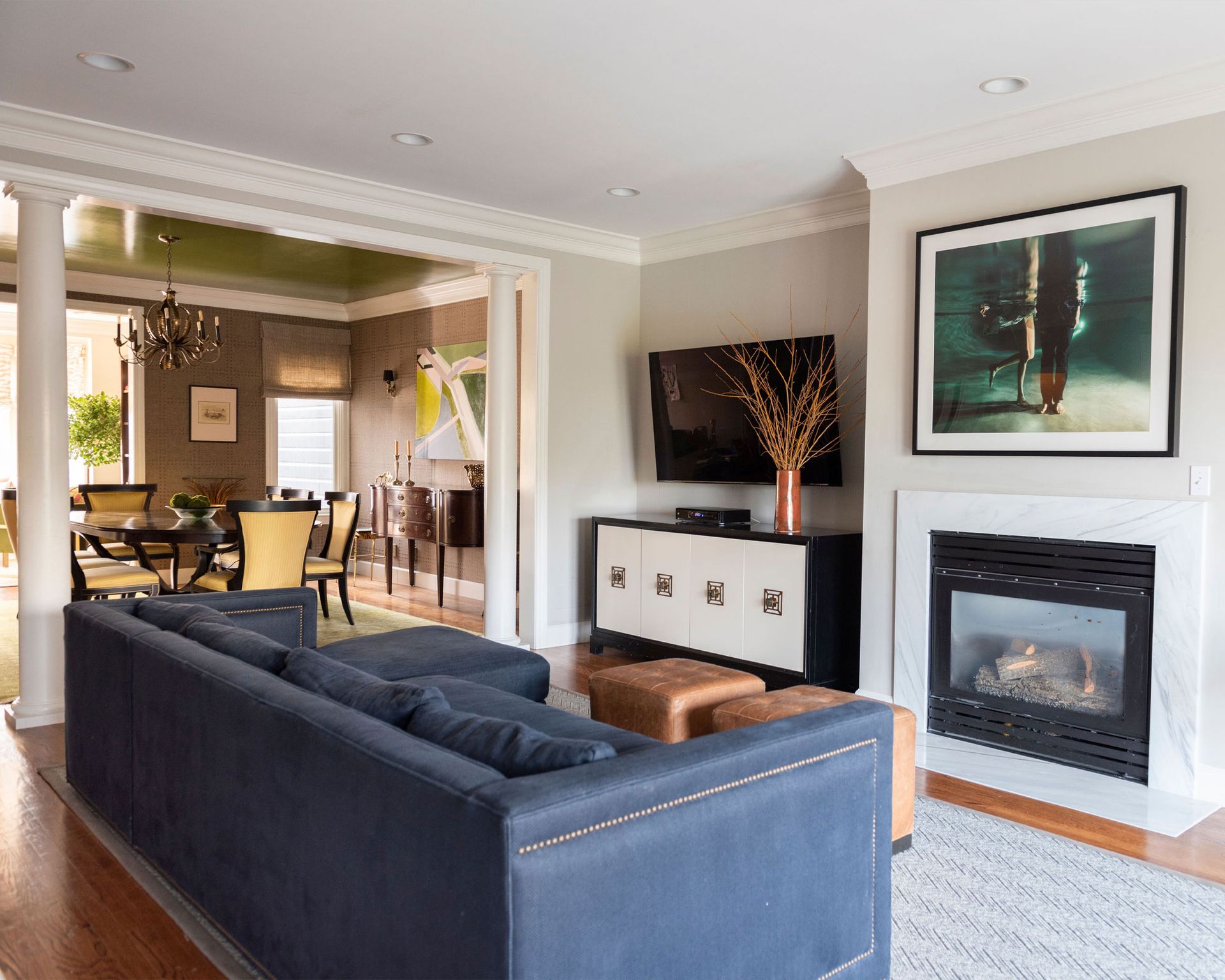 Very similar to an ottoman, a petite pouf can be used individually or in a stylish set, and they can be a great option to consider for a small living room. 
'Poufs and ottomans make for great alternatives to the traditional coffee table, and are often more functional, offering a few different uses. Providing a place to rest books and trinkets, and an extra spot to sit if need be, many come with multifunctional storage options, so they can also be used to tidy away clutter. They are easy to move around and are versatile without compromising on style,' says Patricia Gibbons from the design team at sofa.com (opens in new tab). 
As shown in this living room, designed by Margaret Ash Design (opens in new tab), the two brown leather poufs create an elegant contrast with the deep blue sofa and provide an adaptable coffee table alternative that can be picked up and moved around the space with ease.
Margaret Ash Design is a contemporary interior design firm specializing in full-scale residential and commercial projects. Margaret and her team specialize in designs that reflect diverse influences, modern interiors, and tailored color palettes.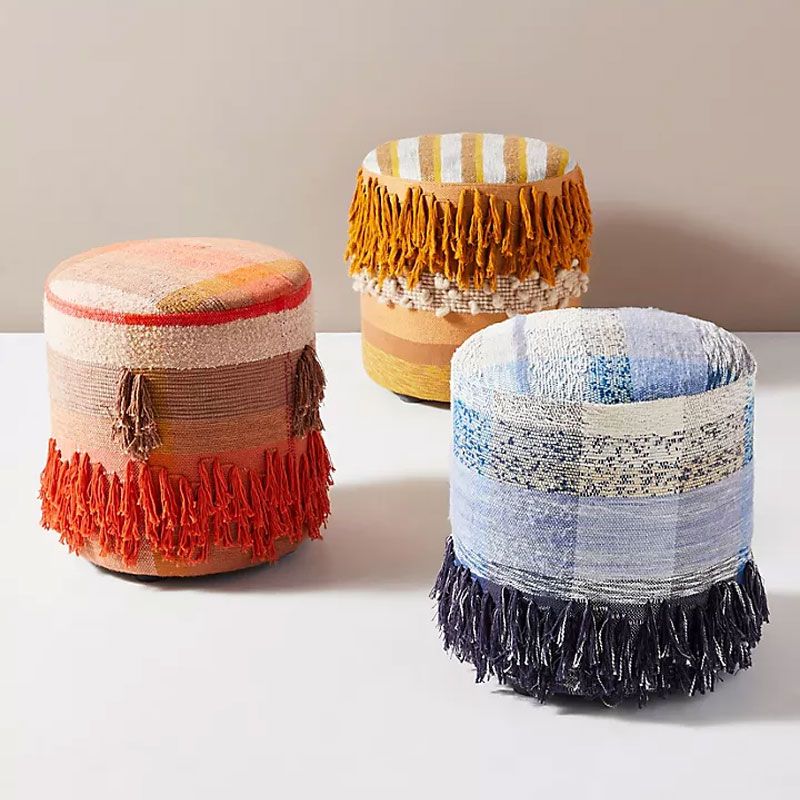 (opens in new tab)
A colorful and characterful design, we love the tactile nature of the All Roads Leilani Stool from Anthropologie, which offers a playful place to perch or rest down objects.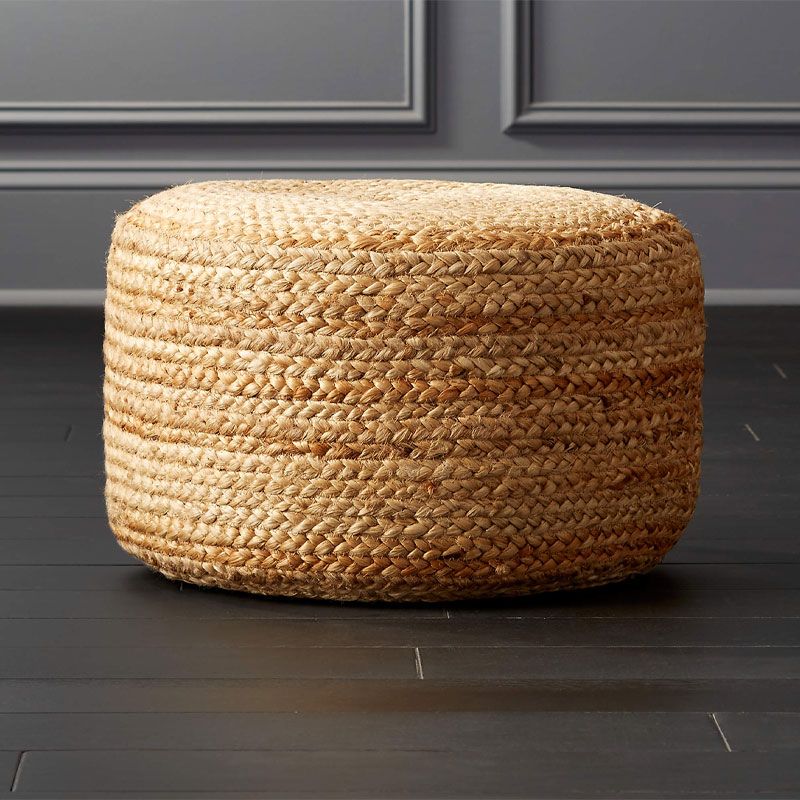 (opens in new tab)
A relaxed, natural design, this pouf has been crafted from jute, and is available in a natural or black finish.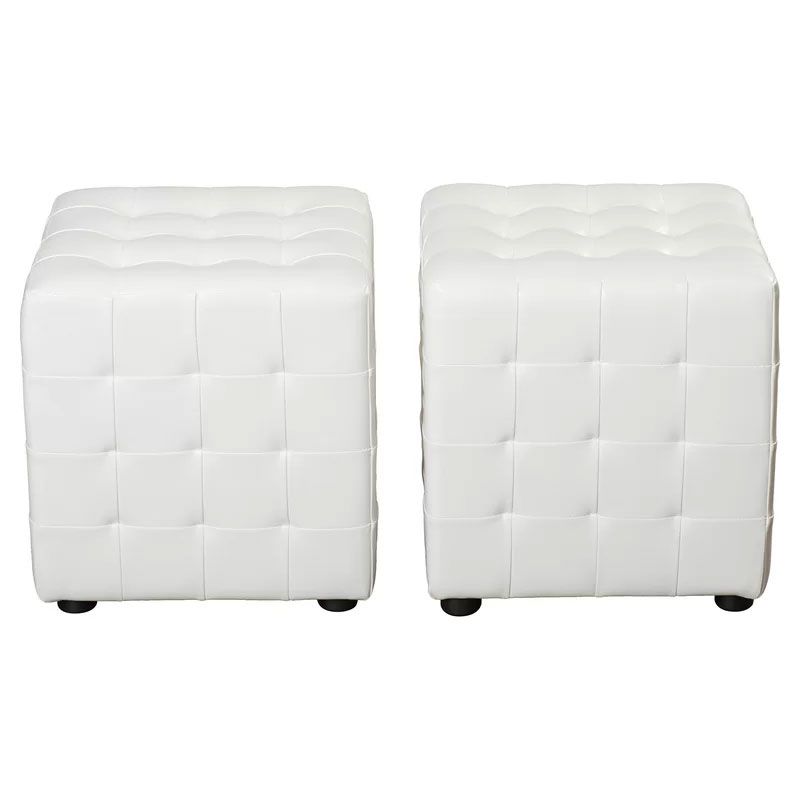 (opens in new tab)
Gisely Vegan Leather Ottoman (Set of 2)
These two cube ottomans from Wayfair have been made from vegan leather and are available in a range of finishes; perfect for living rooms of all shapes and sizes.
3. Choose a cluster of tables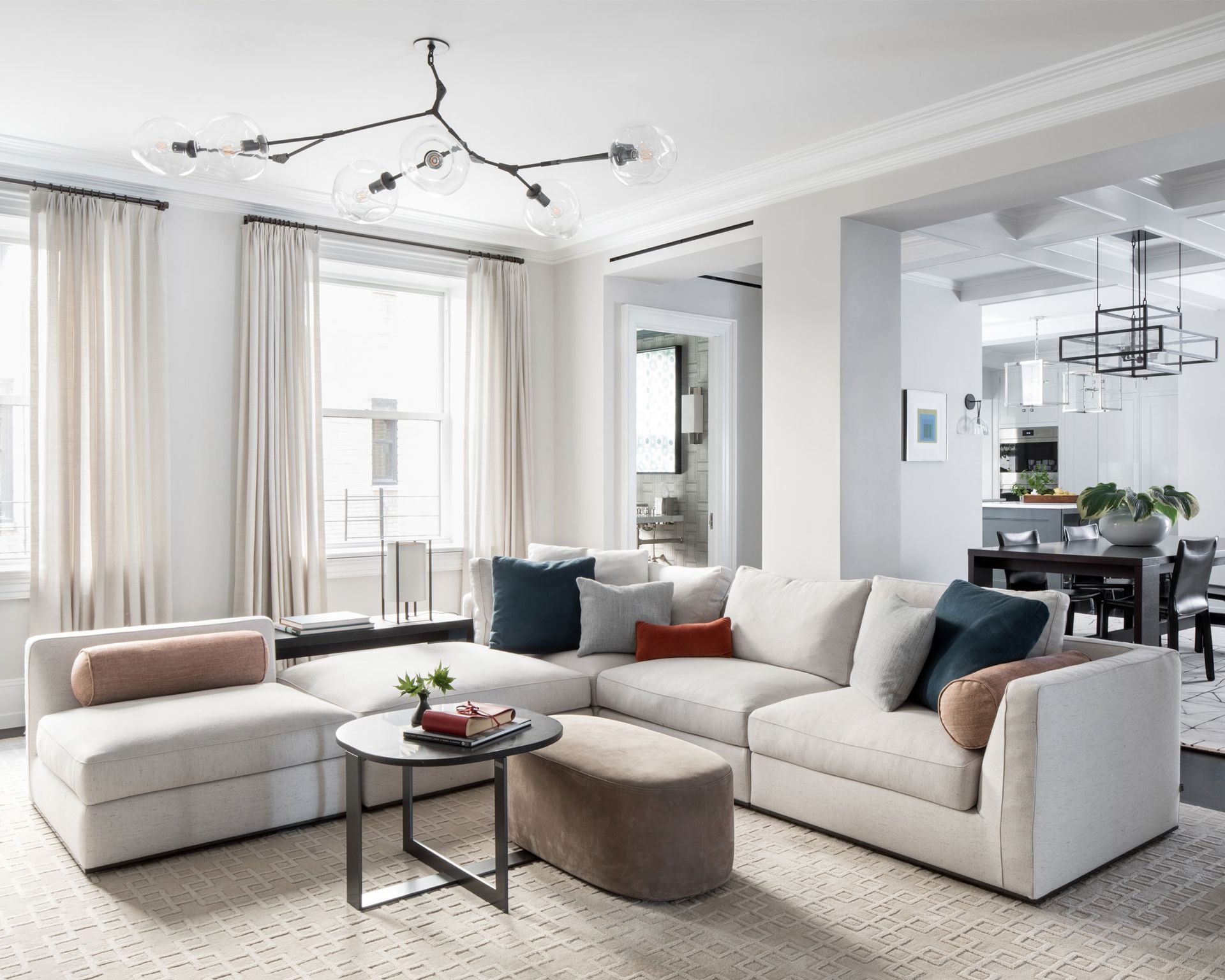 Instead of choosing one large coffee table for your space, a cluster of smaller tables can be a more flexible option – and they can look beautiful, too. 
In this living room, designed by Ginny Macdonald Design (opens in new tab), an elegant contrast is established between the tall, metal side table and the upholstered pouf that sits beneath. Creating a unique, tiered design made up of different shapes and textures, these coffee table alternatives make for a stylish design feature in the space.
Whether you choose a matching nest of tables, or mix and match through different styles and shapes, a cluster of tables can be a highly adaptable and more unique coffee table alternative – and they can provide the perfect place to embrace coffee table styling ideas.
4. Style with a sleek side table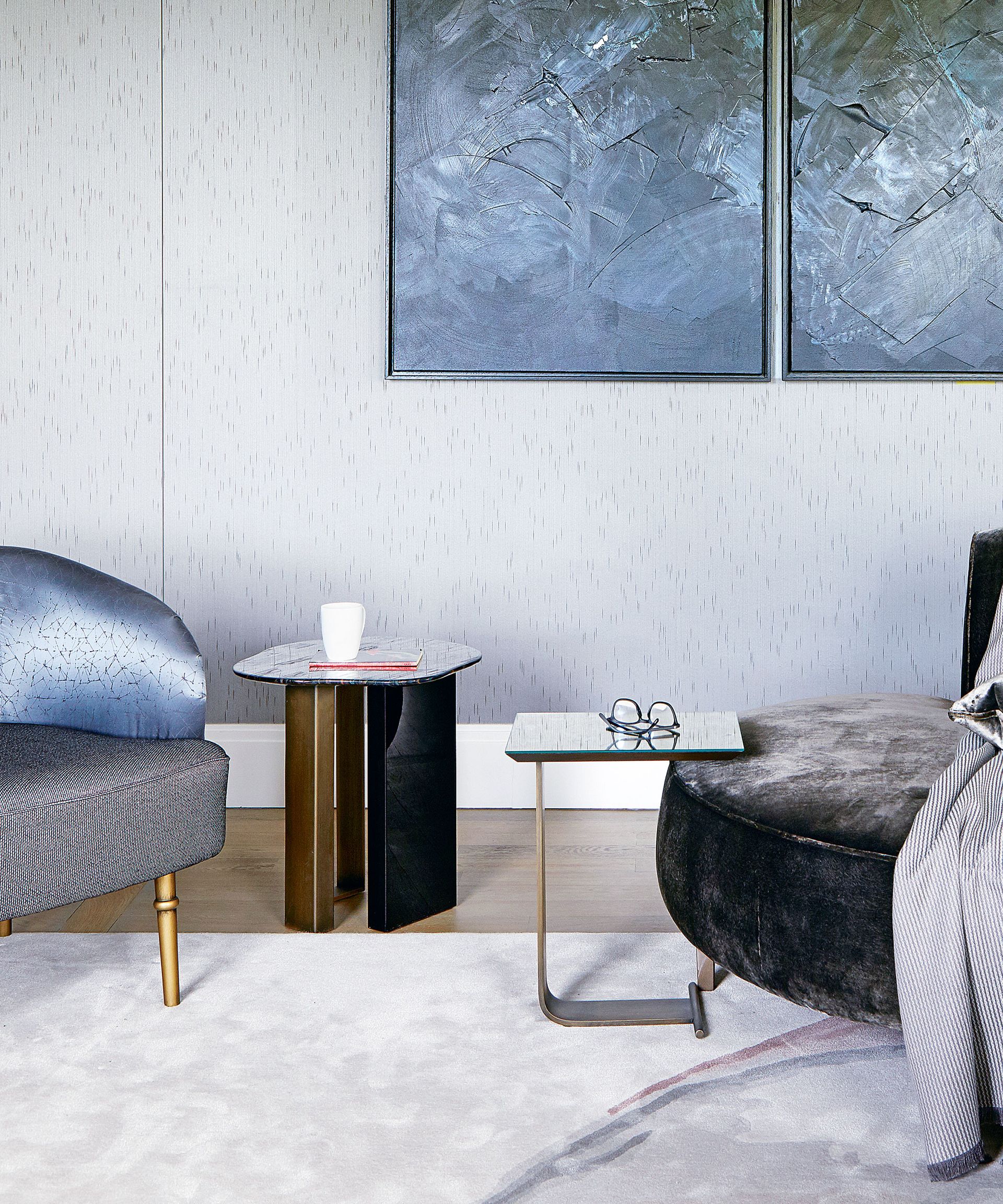 If you're looking to keep things simple, or maybe you feel that a coffee table may be too big for your space, then the next best thing has to be a sleek side table.
Ideal for placing next to the arm of a lounge chair or couch, a slim side table can neatly fit into those awkward spaces a coffee table cannot. 
In this modern living room above, we love how each seat has its own table placed nearby. The marble and metal side table is beautifully timeless and elegant, with the smaller end table fitting neatly under the chair, making for a more practical and moveable design.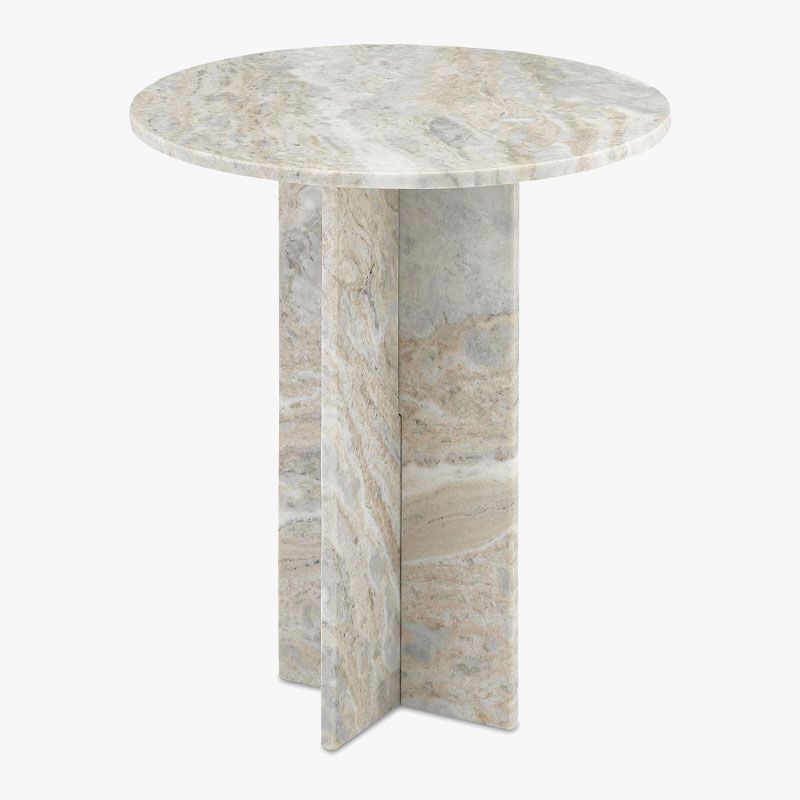 (opens in new tab)
Calvert Round Marble Accent Table
This side table can sit like a beautiful sculpture. Crafted from solid marble, the crisp geometric composition makes for a striking statement.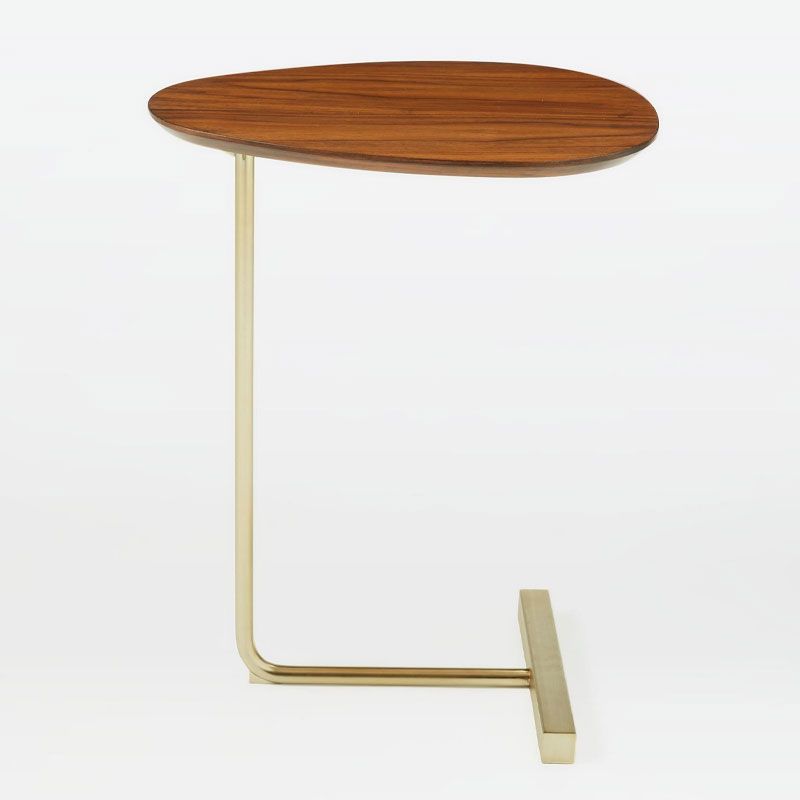 (opens in new tab)
Charley C-Side Table (19″)
This slim side table features a sleek T-shaped base that can slide easily under a chair or sofa, with the organic, wooden tabletop sitting at lap height.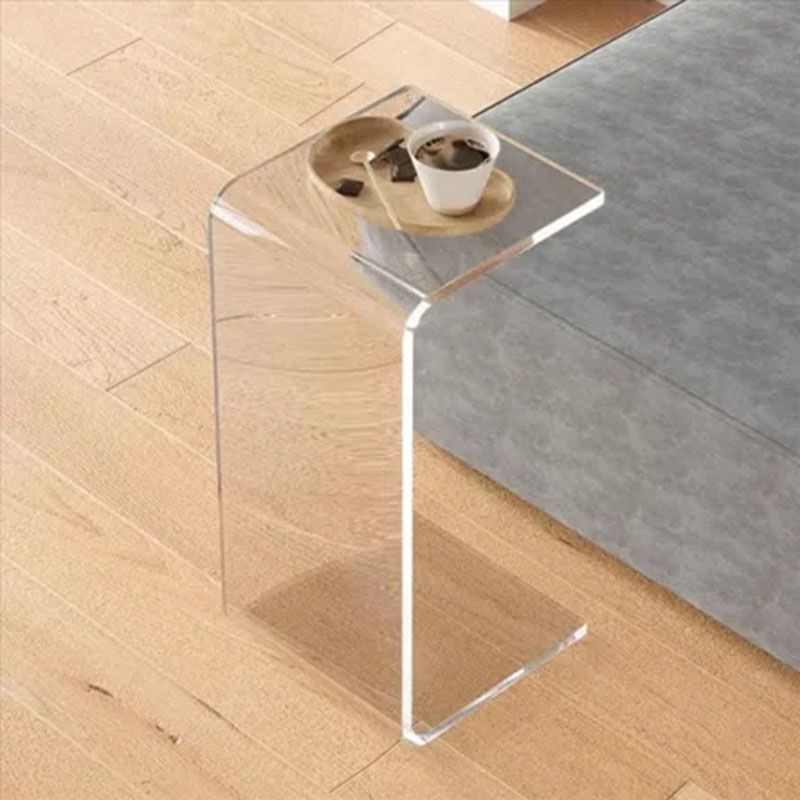 (opens in new tab)
Behudin 25.59" Tall Frame End Table
This contemporary acrylic coffee table can wrap around a sofa or lounge chair with ease, and comes in three different acrylic finishes.
5. Embrace a tree-stump or a carved piece of wood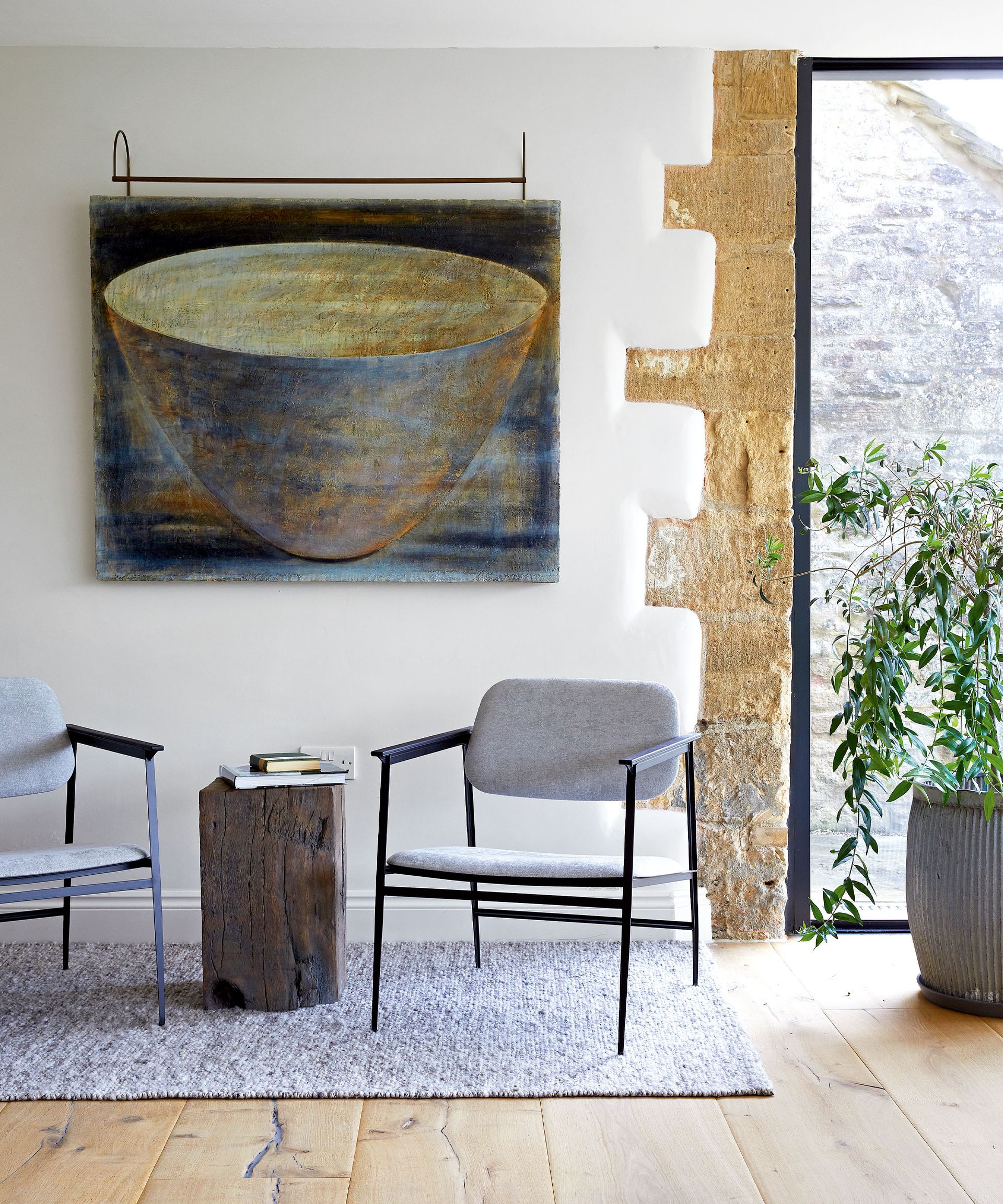 For a more rustic living room and an organic look that celebrates the beauty of the natural world, a tree stump or a beautiful piece of carved wood could be the perfect coffee table alternative for your home – they also make pretty cute stools, too!
These wooden designs can come in all shapes, sizes and wood finishes, and can enhance your space with wonderful natural character and material.
6. A vintage trunk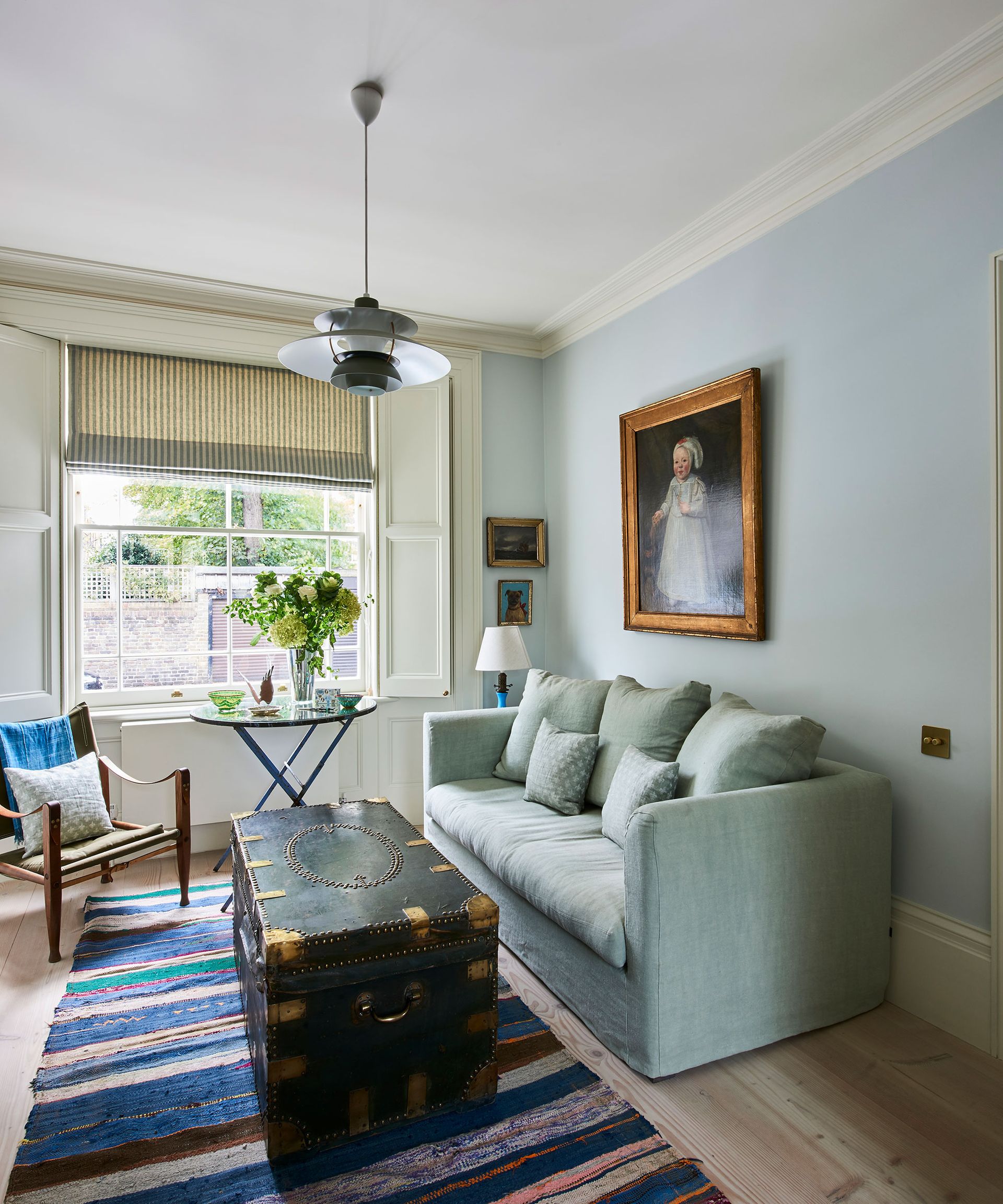 2023 interior design trends are all about uniting the old with the new, making for a more eclectic style that celebrates designs from all eras.
So, if you're thinking of decorating with vintage or decorating with antiques in your space, why not use a vintage trunk as a coffee table alternative?
A trunk can not only sit beautifully in a room, making for a fun focal and talking point, but it can also be a more practical option to consider, as they are ideal for hiding away out-of-sight throws, books, toys and more – an alternative living room storage idea to try too!
FAQs
Is it better to have a coffee table or ottoman?
Both a coffee table and an ottoman can work wonderfully in a living room, and which one you choose is completely down to your style and to the needs of your space – or if you have room, why not incorporate both?
As furniture design and furniture trends become more and more adventurous, colorful and bold, there are so many stand-out coffee tables to choose from, made from all manner of materials. From marble to metal, rattan to wood, you will easily be able to find a coffee table that can both complement and enhance your living room scheme.
An ottoman may be more restricted in its design compared to a coffee table, but it can be an incredibly versatile option to consider. As we have explored, they not only provide a surface area to rest books, coasters, ornaments and more, but they can also double up as additional seating and provide a supportive footrest.
With many ottomans upholstered in smooth leather or soft fabric, this use of material can also help to create a more cozy and comforting atmosphere in a room – something to consider when choosing between a coffee table or an ottoman.