Etsy's Top Decor Trends For 2023 Revealed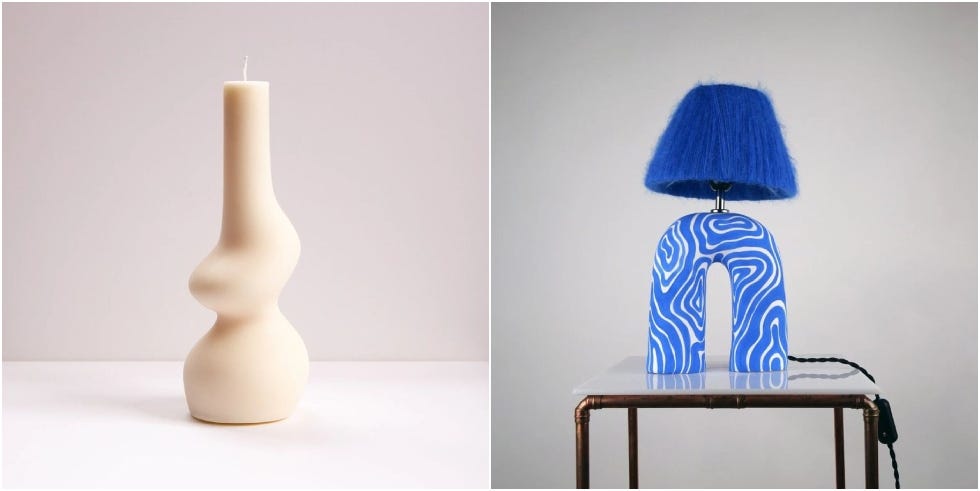 With the new year around the corner, Etsy has released its top home decor trends for 2023. From the colours of the year (yes, there are two) to the next big thing in interiors, there's plenty to be excited about for the months ahead.
The online marketplace, which has forecast shopping trends across interiors, fashion, weddings, kids toys and decor, has noticed one key theme.
'With trend cycles faster than ever, the concept of duality is emerging as a key theme for 2023 – as several (sometimes seemingly opposing) trends are showing they can co-exist at the same time,' says Etsy Trend Expert, Dayna Isom Johnson. 'And the best part is that in today's world it's not an either-or situation; shoppers can embrace a mashup of whatever styles speak to them.'
Take a look through Etsy's home and living trends below:
1.Colours of the year
For the first time, Etsy has released its colours of the year and according to the marketplace, there will be more than one shade making waves in 2023.
'The theme of duality is all about embracing contrast and exploring opposites – a concept that inspired the choice to have not one – but two! – official Etsy Colours of the Year that each bring out the other's radiance,' says Dayna.
The first key colour to know about is indigo, which has 'both a high-impact and futuristic tone'. To complement this, Etsy also predicts honeycomb will be a hit. This colour 'lights up a room and reminds us to appreciate and protect the intelligence of nature that exists all around us.'
2. Statement marble

From kitchen worktops to living room accessories, marble is an elegant stone that is used throughout the home — and its popularity continues to rise. According to Etsy, there has been a 183 per cent increase in searches on the site for marble sinks and a 117 per cent increase in searches for marble coasters (from August – October 2022, compared to the same time the previous year).
'Marble offers brightness and dimension to a space, and shoppers are embracing this timeless material in fresh ways in 2023 – including new colourways like green and burgundy and dramatic statement pieces featuring patterns with heavy veining – from custom-carved sinks to vintage bookends and candlestick holders,' adds Dayna.
3. Melting forms
From glassware to sculptural candles, there has been a recent rise in textured forms that take inspiration from the movement of molten lava. On Etsy, there has been an eight per cent increase in searches for melting or molten items and that number is expected to grow over the year ahead.
'An evolution of the popular wavy, curvy and relaxed edges decor trend, this aesthetic reveals the fluidity of decor trends today and is a dynamic contrast to the more geometric decor styles of the recent past,' explains Dayna.
4. Exploring the 'natureverse'
When it comes to trends in the kids category, adventure and discovery are set to be the big themes. Etsy has seen a 49 per cent increase in searches for jungle nursery decor and a 12 per cent increase in searches for ocean nursery decor.
'From marine creature toys and mobiles to jungle-themed wallpaper, these pieces spark kids' curiosity and help teach them about the importance of protecting the many precious plants and animals that call Earth home,' says Dayna.
Follow House Beautiful on Instagram.
---