experts offer safety tips |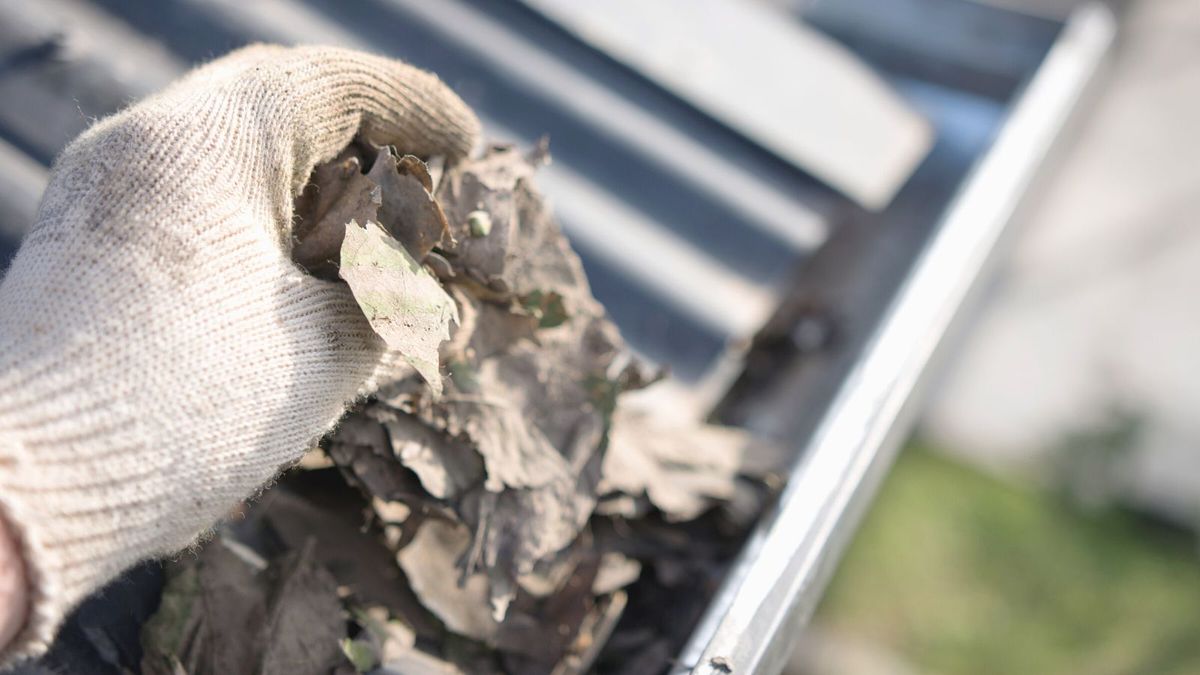 Our gutter systems can be easily forgotten about when we are ticking off home maintenance tasks, but these drainage systems are essential to preventing roof damage and leaks. 
So how do you clean gutters from the roof? And is there a better, safer way to do it? 
Picking up some expert cleaning tips for the outside of your home is just as important as inside – especially for your guttering. This high-up spot is near impossible for many of us to access safely.
How to clean gutters from the roof 
Although it is often best to hire a professional for tough tasks like this, there are a few ways to do it yourself while staying safe.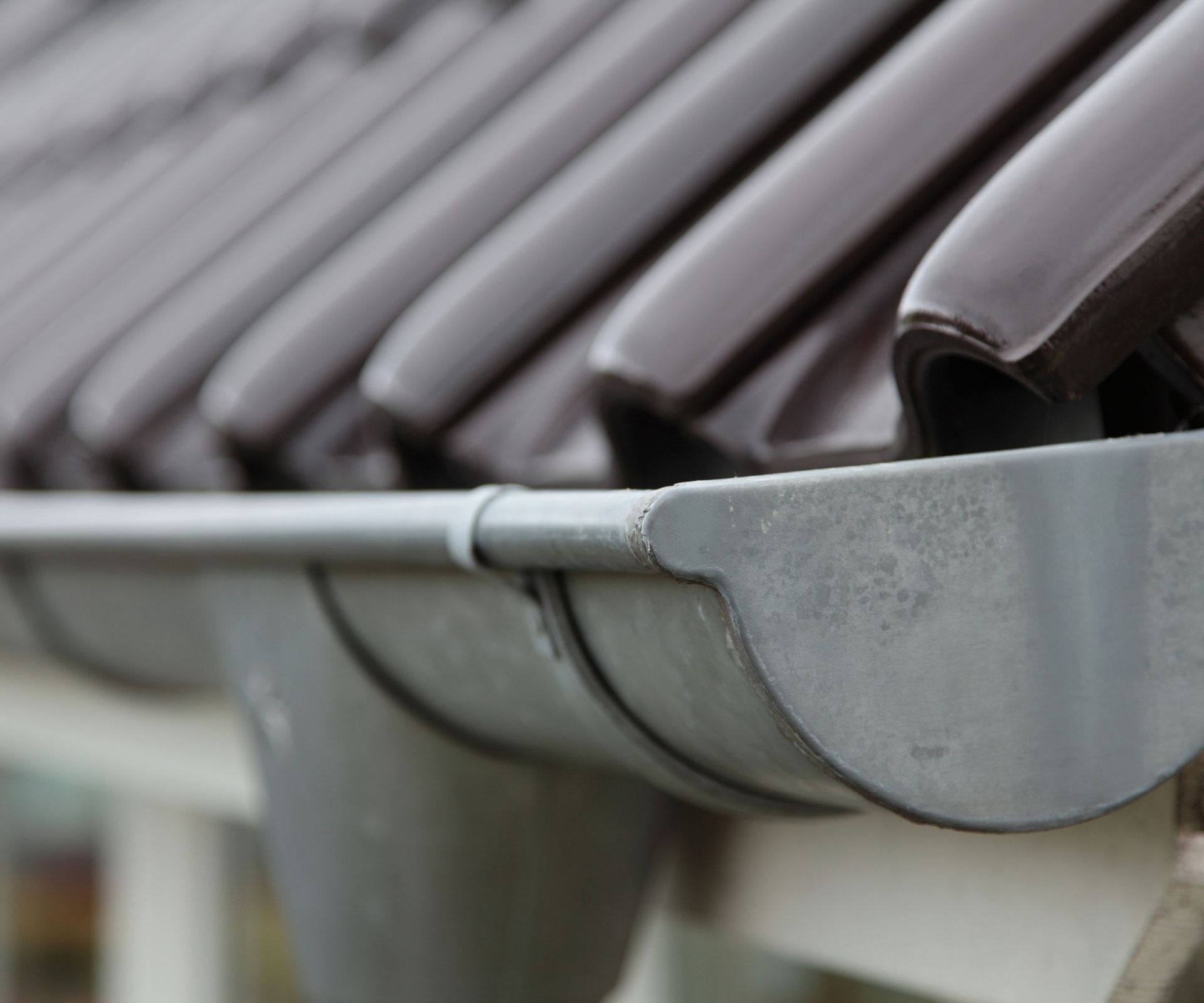 Whether you are preparing your home for fall, or adding home maintenance jobs to your spring cleaning checklist, cleaning out your gutters is a task that must not be neglected, explains Bill Leys (opens in new tab), water-proofing consultant at SB326Inspector explains. 'Left unmaintained, they quickly fill up with debris and leaves,' he says. 
'Over a couple of years, the gutter will rapidly become full and unable to drain water off the roof. This often then becomes a dry-rot problem in the wood fascia the gutter is attached to,' he warns.
'DIY tools to clean gutters don't always work very well because you can't see what you're trying to get out of the gutter without actually being at the right level on a ladder. Several good reasons for wanting to be up at the gutters are to be able to check them thoroughly and make sure that they are secured to the building; another reason is to make sure that the downspouts are clear of debris. You can also get a good look at your roof and view its condition,' says Bill. 
Despite this, working at heights is dangerous, especially for non-professionals. We asked professional maintenance experts for their best advice on how to clean gutters so you can safely perform your own home maintenance.
Bill Leys (opens in new tab) is a waterproofing consultant with over 20 years experience in construction waterproofing. 
1. Try cleaning the guttering with a ladder first
Cleaning gutters can help make a front yard look nice and improve your curb appeal, but it is a dangerous task to undertake yourself. Safety is the most important thing to remember when cleaning your gutters from the roof, insists Kamil Kowalski (opens in new tab), president of LimakWay Remodeling. That means trying methods such as working from a ladder before you try working on a roof – especially one that is slanted. 
'It's essential to use the proper safety gear, such as a sturdy ladder, harness, and gloves. A ladder tall enough to reach the gutters is also essential,' Kmail explains. 'If the ladder isn't long enough, you may need to rent or purchase one designed for gutters. Make sure to position the ladder on a flat, even surface for stability.' 
When working from a ladder, it is imperative to work with someone else and avoid climbing to heights alone to help prevent accidents. 
2. Clean your gutters from a safe distance from the roof
If you do choose to clean gutters from the roof, then it is important to stay away from the very edge, continues Leonard Ang, CEO, iPropertyManagement (opens in new tab). 'Working up on a slanted roof and reaching down into your gutters is an excellent way to overbalance and fall right off your roof.
'Ideally, you should have a tool like a hose with a sprayer wand attached or a long shovel or scraper to allow you to clean out the gutters from a safe distance. Having a spotter make sure you stay on the roof is also a good idea in these circumstances. 
'It really is ideal to clean gutters from a ladder or from the ground for safety purposes,' he reiterates.
3. Only work on a day with good weather
As with any essential lawn care tasks or yard maintenance, working in good weather is essential to keeping safe and making the task easier. Only work from a roof in dry weather with little to no wind in order to make it easier to balance and avoid flying debris.  
4. Remove physical debris
The first step in gutter cleaning is to remove all debris from your gutters, and there are a few methods you can use to achieve this, says Justin Carpenter, manager at Modern Maids (opens in new tab). 'Use a garden trowel or long gutter scoop to remove leaves, twigs, moss, and other material from the gutter, starting at the downspout and working outwards,' he suggests. This can help prevent debris from falling down the spout and causing clogs. 
You can flick this debris down onto the ground below to make the clean-up easier afterward.
Justin Carpenter (opens in new tab) has been a professional cleaner for over four years, having founded Modern Maids in his spare time before making is a successful cleaning business in its own right. 
5. Flush out the drain with water
Flushing the drain with water can help to remove any remaining debris and ensure that water can move freely without blockages. 
'Gutter cleaning products can also help with the job,' adds Kamil Kowalski, president of LimakWay Remodeling. 'Choose a product specifically formulated for gutters. Also, use a brush or a gutter cleaner brush to scrub away any remaining dirt or debris. This will help to ensure the gutters are completely clean and free-flowing. Make sure to rinse the gutters thoroughly after scrubbing, and then finish off the job with a hose or a pressure washer.'
6. Check your guttering for damage once clean
A good way to add value to your home is to ensure that any essential fixings are in good, working order with no damage or weaknesses. Clean gutters are perfect to check over for signs of wear or damage, including blockages and any issues with fixtures, such as screws and brackets.
'Look out for loose seams, cracks, rust spots, or other signs of wear and tear that may indicate a need for repair. If repairs are needed, contact a professional to ensure the job is done properly,' says Justin Carpenter of Modern Maids.
7. Call a professional
The safest way to clean your gutters is by calling a professional team, reminds Bill Leys, waterproofing consultant. 'A professional gutter cleaning company is something to consider when it comes to water management and keeping water from damaging the building. Ladder work is hazardous and therefore I don't recommend DIY gutter cleaning to most people,' he shares. 
Cleaning gutters from the ground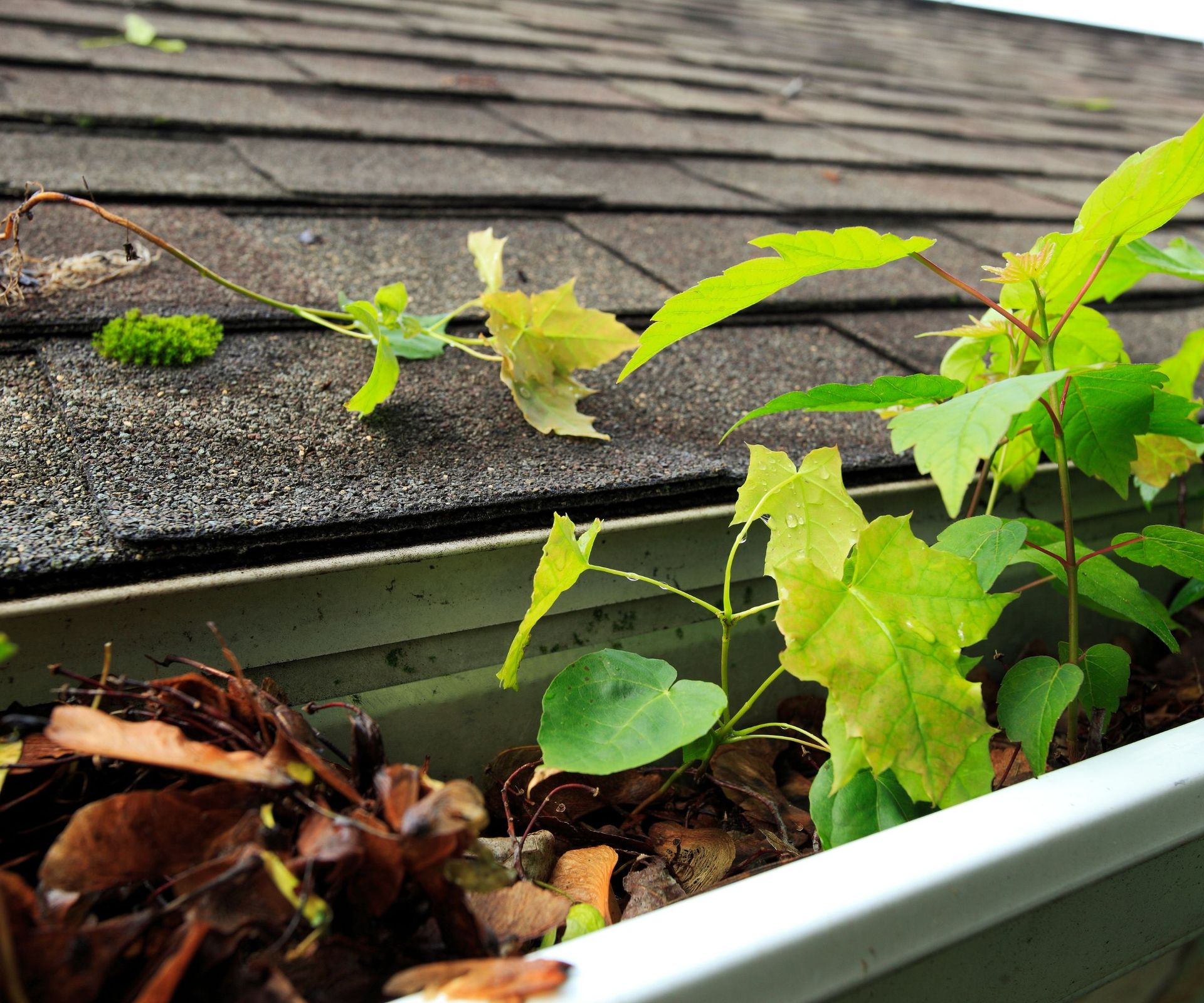 Ultimately, cleaning gutters from the ground is much safer for everyday DIYers, even if it is a little trickier to get right. Using a long-handled gutter cleaning tool, for example, is one technique to clean gutters without a ladder and is recommended by Gretchen Boyd (opens in new tab), president at NY House Cleaners. 
'With this tool, you may remove leaves and other debris from the gutters while seated on the ground. Another alternative is to clear the gutters' debris with a powerful leaf blower. You might also think about using a telescoping wand with a pressure washer if your home has two stories. By doing this, you'll be able to blast out gutter debris while seated on the ground.' 
Gretchen Boyd (opens in new tab) prides herself on running a cleaning company that provides excellent house cleaning services to residents and businesses in New York including the 5 boroughs and all surrounding areas.
FAQs
How often should you clean your gutters?
It is a good idea to clean your gutters out around twice per year, once in spring to clean out the last of any fallen leaves from winter and once in fall to prepare for the heavy rains expected in the cooler months to check for damage and ensure good drainage.  
How long should it take to clean gutters?
Cleaning gutters properly is not a quick task and can take anywhere between two to four hours depending on how clean the gutters are already, how much guttering you have, and the tools you are using. Single-storey homes may be quicker to tackle, whereas multi-story homes will require more energy and skill to complete.  
---
Cleaning gutters from the roof is effective, but a risky task of you are new to home maintenance or do not have the right tools and supplies at hand. Ultimately, it is best to call a professional in for high roofs, but it is a useful skill to learn yourself if you use the right safety messures.