Is this the end of the home office? This might be the future of WFH instead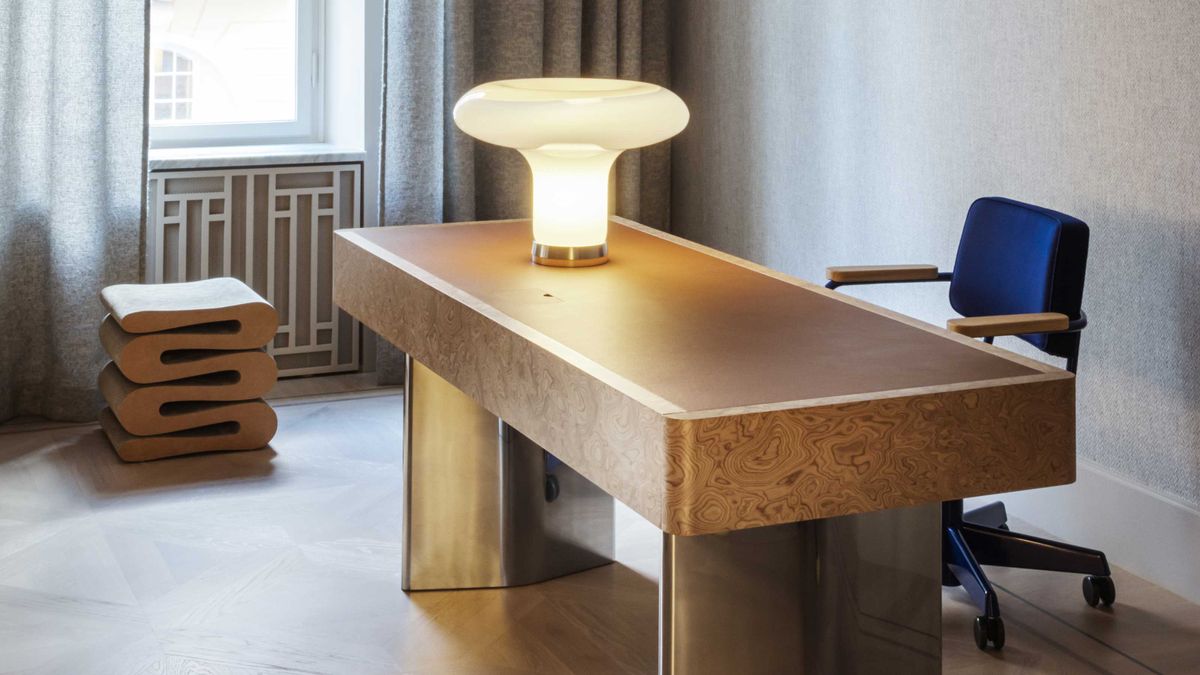 Before the pandemic, I had never worked from home in any meaningful way. Then overnight, I, like many people, became a full-time remote worker – something that has persisted post-pandemic into a major shift in my working lifestyle. For that first year, I confined myself completely to working in my home office, a space that we'd recently re-decorated and installed a desk in, despite rarely needing this facility before. 
Fast forward to 2023, and though I still work from home, the way I do it has fundamentally changed. My approach is much more fluid as to where I call a work space – often, the dining table, a spell on an armchair, the sofa, or standing at kitchen countertops while I make coffee. From my colleagues' shifting backgrounds when we take video calls, they seem to be taking a similar approach, too. 
In a recent study conducted by online design marketplace 1stDibs of their 50 top interior designers, including the likes of Brigitte Romanek and Nate Berkus, the results concluded that these designers were seeing fewer and fewer people ask for home offices in their briefs on the whole – something I believe is linked to my own shifting perspective of what working from home looks like. But how can we explain this phenomenon? 
Hugh is Livingetc.com's deputy editor and an experienced homes journalist. With a study revealing fewer people are asking for home offices, he investigates whether his own shifting working habits explain the change in direction. 
Are home offices strictly necessary? 
'I think designers are noting a slowdown in home office commissions for a variety of reasons beyond the obvious explanation that the majority of home reconfigurations already happened in the first years of the pandemic,' Anthony Barzilay Freund, Editorial Director and trends expert at 1stDibs (opens in new tab), ventures when I ask him why he believes this to be the case. 'I'd guess that the mad rush during the early years of the pandemic to transform our dens, attics and spare bedrooms into hardcore dedicated home offices has mellowed into a more relaxed and realistic appraisal of what type of spaces we actually need to successfully work from home.' As it turns out, maybe we don't need to sequester ourselves in one single space from sunrise to sunset.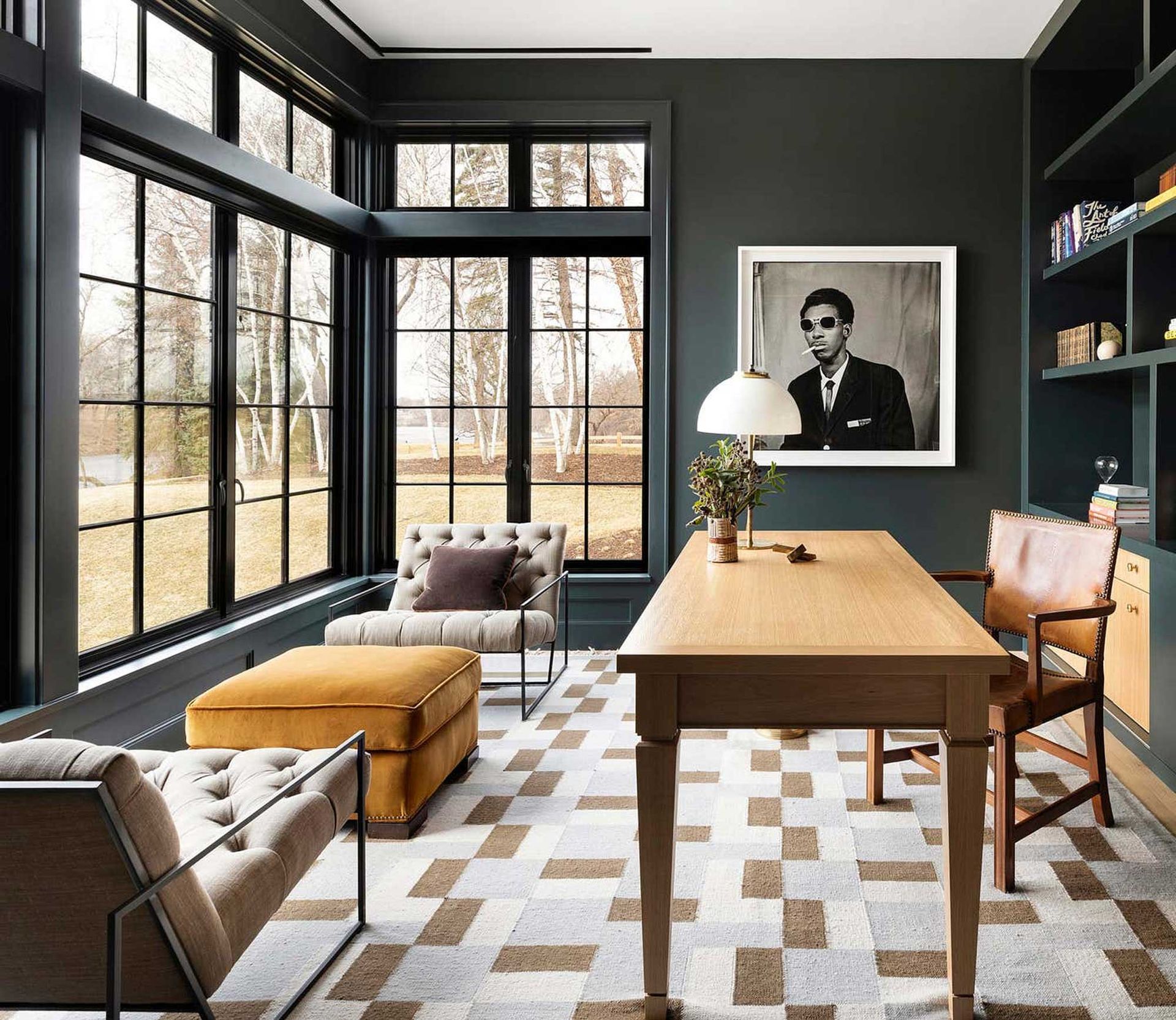 'I've found that in the course of just one day, I can be productive from a number of perches: editing manuscripts on my laptop at my desk, brainstorming future story ideas with my team over Zoom at my kitchen table, and attending departmental strategy-planning sessions on my phone while I log a quick lap around the park,' Anthony  explains. 'Now that I get to enjoy my house during the workday — who knew that my dining room had such nice light from 1 to 3pm? — I want to actually experience it in its entirety.' 
For me, this strikes a chord. I have a small home office that is dark and north-facing – hardly the most invigorating room to spend time in. But that is, traditionally, what home offices have tended to be. They're the spare rooms; the rooms that are leftover once bedrooms have been allocated. But, if the world has moved to more of a WFH culture, is this now an outdated approach?  Perhaps the better question is, what is the alternative?  
What does working from home without a home office look like? 
For the answer, I look to projects like Earthrise Studio, a warehouse conversion by architecture firm Studio McW (opens in new tab), approached as a 'live/work' space. 'There was a definite move away from a separate home office, having a separate space would not have worked for the way the clients lived,' Greg Walton, director of Studio McW tells me. 'The way they move through the space socially is similar to how they move through the space professionally.' Their design was about flexibility. The dining table needed to become a meeting table, the living room space to relax and host events for colleagues or investors, the kitchen island a place for informal work drinks, perching for Zoom meetings, or cooking, of course. '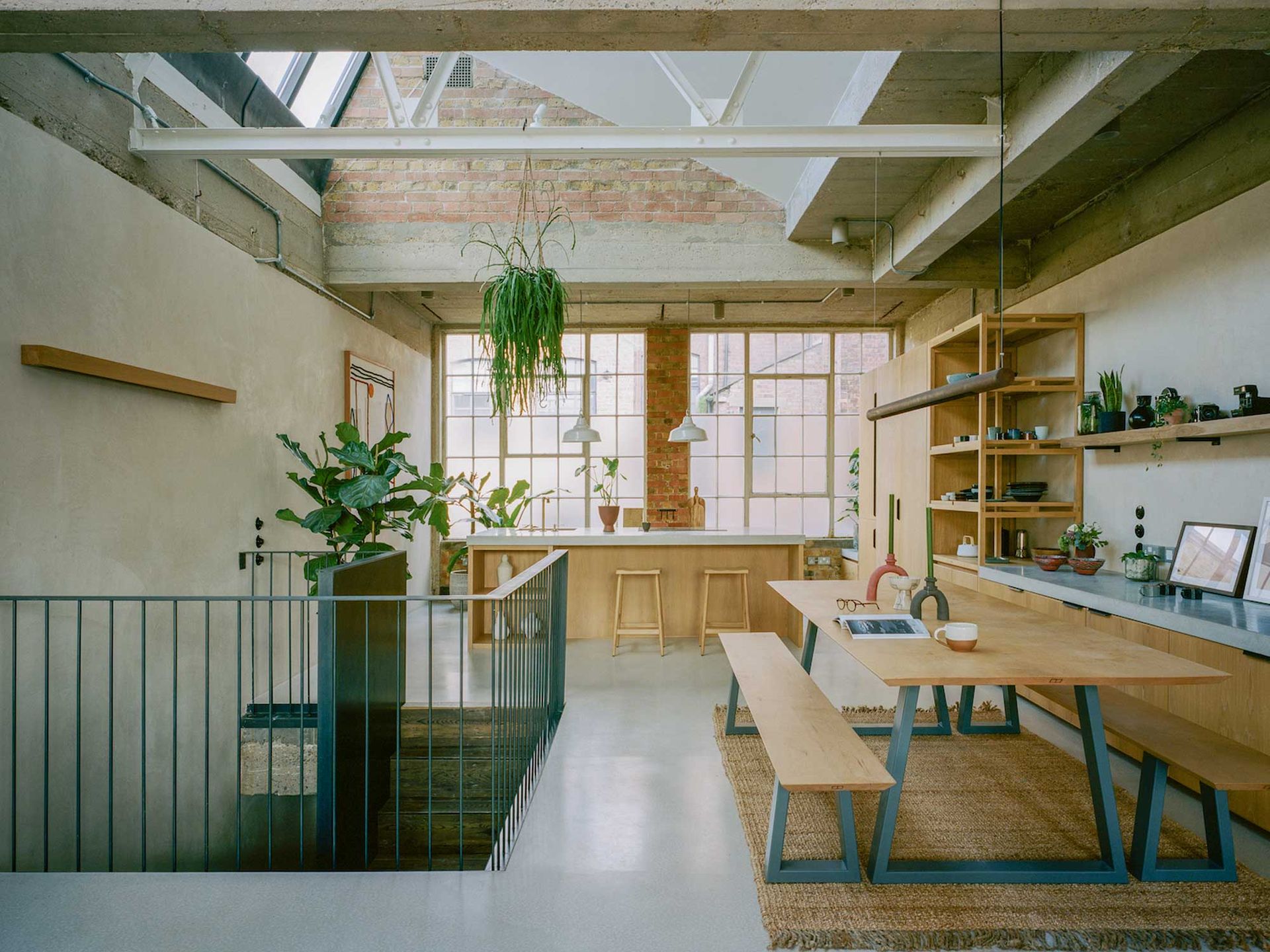 It's an idea that, in this instance, doesn't really need many permutations to a regular home on the surface. There's storage allocated next to the dining room for laptops and equipment for example, and layout and furnishings have all been considered with the brief in mind, but for this client, at least, it's a concept that suits their lifestyle. 'The joy of working from home is that there is an integration into your daily life, rather than being shut off in a separate room,' Greg says, 'and there is a reason so many communal work spaces are made to feel homely nowadays.' 
Whether it's an idea that allows for you to 'switch off' at the end of the workday is up for debate, but for lots of people who could be categorised as 'office workers' work has become confined to a single device, with little of the ephemera, such as papers, folders and stationery, that made up the work space of yesterday. So, 'switching off' could be as simple as closing your laptop. 
There's some other benefits to not tethering yourself so strictly to a home office, too.  'A variety of workspaces is far better for you than consistent good posture, as these changes force you to frequently change positions and move,' Lucinda Newbound, Senior Ergonomics Advisor for Back in Action, tells me. 'The more variety you can add to your working day, the better.' These benefits extend beyond ergonomics, too. 'Implementing a change of scenery into your workday can prevent fatigue and boredom, having brilliant effects on your mental health,' Lucinda explains. 'Further, your well-being can be boosted in the winter by changing rooms based on where the sun is landing. Getting ample Vitamin D has a good impact on your whole body.
So, is an office-less home going to be the new standard?
Before you get rid of your home office completely, it's worth considering that there are cons to this concept, too. 'If work from home is in the equation we see a lot of value in treating this program as seriously as one would treating the request to have one's in-laws live in the home,' says Rustam Mehta, founding partner at GRT Architects. 'By that we mean that there are a whole host of privacy, space, adjacency, acoustic issues to consider, especially if two or more members of a home will be working from home.' Having completed a live/work project in Williamsburg, Brooklyn, the architects found dedicating the ground floor to working spaces gave the design some 'clarity that resulted in a better space. This was a great lesson for us – that being clear about the different programmatic requirements of work and living can lead to good space,' Rustam explains. 
There are ergonomic drawbacks, too. 'I wouldn't recommend sitting in a non-ergonomic chair for any more than an hour, two hours worst case,' says ergonomics expert Lucinda. 'The worst places for working at home are sofas, beds, recliners, or any chairs which only offer the option of leaning back. Dining chairs are also often very bad for your back, too.' She recommends including a more ergonomic workspace in your home, too, even if you are taking a more flexible approach to working. 
So, perhaps this might not be the curtain call for home offices, but considering living and working more holistically for your home's design may help to improve your environment, and your health. 
3 of the most stylish working chairs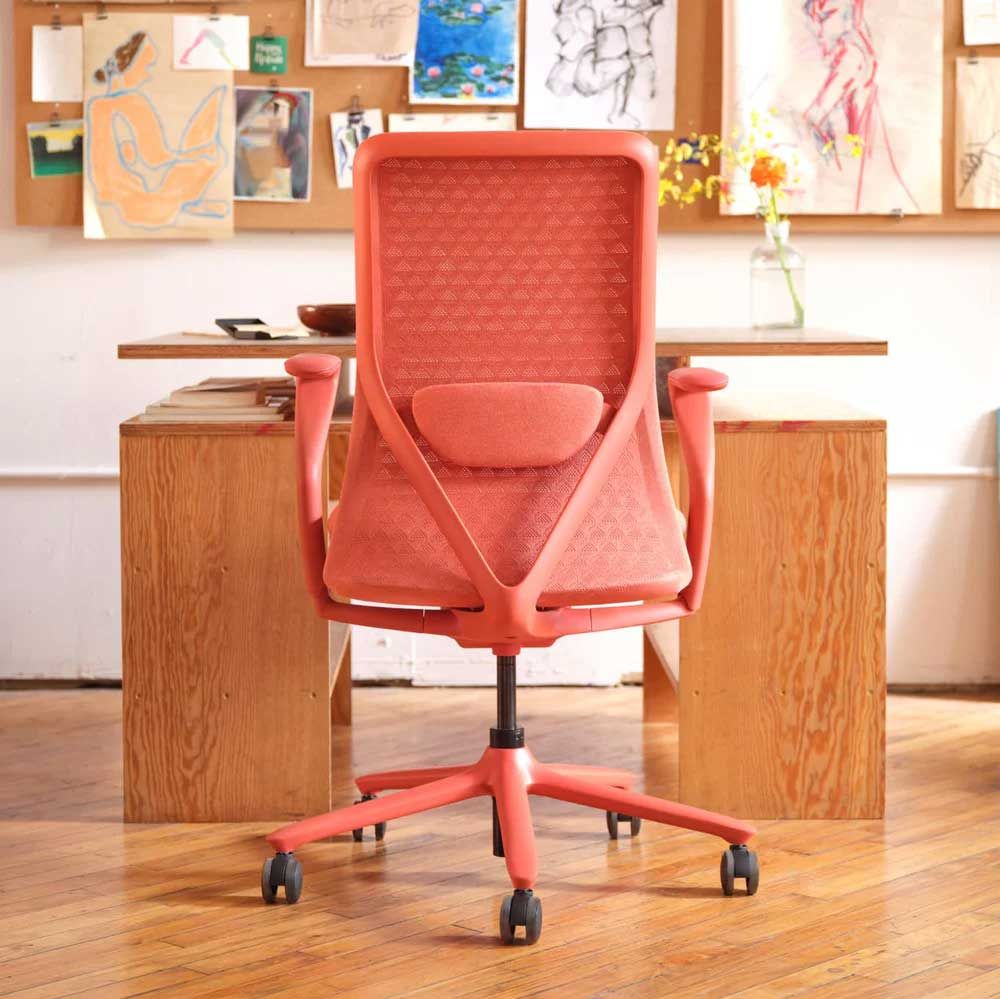 (opens in new tab)
Verve office chair, $599, Branch
It may be a more classic office chair in design, by this playful coral color makes for a bold choice for a colorful home.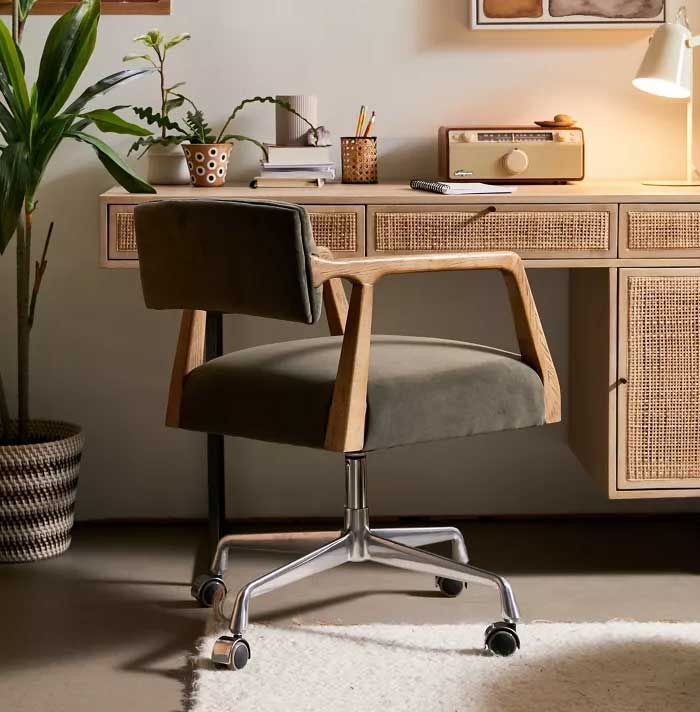 (opens in new tab)
Edith velvet office chair, $599, Urban Outfitters
This oak chair with grey velvet is a sophisticated and stylish buy for a home office.