JBLM Support Maintenance Company returns home from CENTCOM mission | Article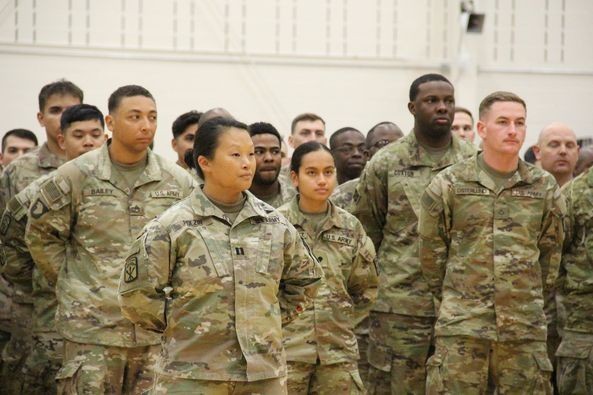 JOINT BASE LEWIS-MCCHORD, Wash. – On Feb. 14, families, friends, and loved ones gathered at Wilson Gym on North Fort, JBLM to welcome home the Soldiers of the 542nd Support Maintenance Company, "Bulldogs", from a 9-month deployment to the CENTCOM area of responsibility.
The company deployed in support of Operation Inherent Resolve as part of the U.S.-led mission to enable partnered forces to defeat the Islamic State of Iraq and Syria, also known as Daesh.
Lt. Col. Jeff Buckner, commander of the 13th Combat Sustainment Support Battalion, addressed the Soldiers prior to releasing them to their anxious loved ones.
"You're a team built on the legacy of the 542nd. It has its own unique and special history, and you [all] have cemented your place in it," he said. "Take care of it and take care of each other."
Prior to the Welcome Home ceremony, command teams from the 593rd Expeditionary Sustainment Brigade and the 13th CSSB greeted the Soldiers at McChord Air Force Base as they debarked the aircraft and shuffled onto the cold tarmac with smiling faces.
Capt. Nikki Polzin, commander of the 542nd SMC, expressed her pride and adulation for the Soldiers' accomplishments during the deployment.
"I am extremely proud of this team," she said. "They and their families sacrificed a lot to ensure that our mission was successful and that we all returned home safely."
The 542nd SMC provides field-level maintenance capabilities to supported units at echelon-above-brigade (EAB) through allied trades support, wheeled vehicle recovery, and maintenance for wheeled vehicles, communication, electronics, special electronic devices, ground support equipment, and test, measurement, and diagnostic equipment.
—