12 Highlights From Maison & Objet 2023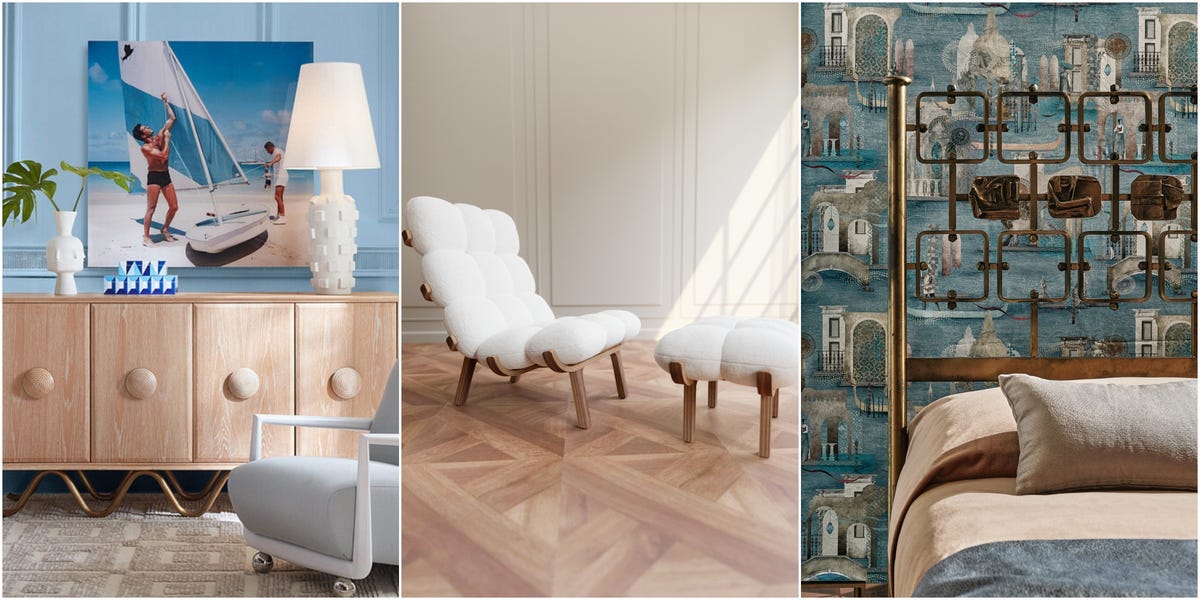 This year's 'Take Care' theme from Maison & Objet centred around creating harmony within the home, the environment, and yourself. It's all about choosing objects carefully and consciously. Artisans and designers are committing to inspiring a sense of wellness, and promoting quality and longevity. This is evident in the collections that celebrate comfort, all whilst remaining innovative and refreshing.
Over the years the fair has expanded to include:
In The City: Launched in 2022, it is described as a luxury chocolate box sampling of the finest in home decor. It allows you to visit artisans and designers at their place of work and see what really goes into your purchases and how they create in real time.
Paris Deco Off: Celebrating all that is fabrics, textiles and wall coverings, Paris Deco Off focuses on the materials that you may use for soft furnishings or to adorn your walls. Brands like Pierre Frey and Rubelli open up their showrooms to reveal the best ways to use their collections at home.
Here are 12 take-home ideas from Maison & Objet 2023.
1. Go modular
If you're not already planning for summer then Ethimo's outdoor furniture collection will quickly bring it to the top of your to-do list. You might not be able to use the garden right now, but you can prepare the space so that it serves you well during the warmer months.
'The recurrent theme for the entire collection is taken from materials and finishes from the world of yachting and all things nautical,' CEO at Ethimo, ​​Gian Paolo Migliaccio, says, 'The versatile modularity of the lounge and sundeck elements enables the creation of custom settings.'
If you're looking for new outdoor furniture, choose flexible pieces that can adapt to different situations. Whether it's an intimate setting, or a big family gathering, a set that can be expanded and easily put away when not in use is a smart choice. The start of the year is the right time to look outwards as well as forwards so that you can enjoy the not-too-distant spring and summer days ahead.
2. Fresh take
All you need is one or two statement pieces of furniture to turn your room from run-of-the-mill to absolutely brilliant. Jonathan Adler's new collection shows exactly how you can effectively pair pastels with natural materials such as wood and cotton fabrics, and still create a sense of luxury.
Elements of bright white accessories instantly brighten the setup, while the combination of curves and sharp angles create visually captivating shapes. You might already have all the pieces in place and just need to re-evaluate your colour scheme, explore your options and you're likely to be pleasantly surprised by an unlikely match.
3. New purpose
Instead of throwing items away, sometimes a fresh coat of paint can make all the difference to a tired piece of furniture, or you might simply need to replace elements, repurpose the product, or reupholster the furnishing.
Laurence Carr's restorative room demonstrates their ethos of Circularity in Action: 'It's an immersive experience that draws on cultures from around the world to create a sense of harmony,' designer Laurence says. 'Our aim is to design a more circular future.'
The Danish designers have been working for some time not to offer concrete, and to show how 'yesterday's waste and by-products' are already becoming tomorrow's desired materials.
4. In good light
Designheure's versatile and adjustable range of light fixtures are a reminder to let your interior spaces adapt to your needs, rather than you having to work with awkward arrangements. And you can change the way a space looks and feels at the flick of a button – set the mood for work, play or relax and create moments for living. These lighting experts illuminate restaurants around the world and demonstrate that an effective lighting scheme can elevate your interiors and enhance your mood.
5. Cloud nine
As we're spending so much of our time indoors at the moment, it really is worth choosing furniture that's comfortable and durable. But why not a little whimsical too? Like this award-winning, cloud-like armchair by Sollen.
'The NUAGE collection is an invitation to create dreamlike spaces for your wellbeing, the chairs represent a perfect harmony between emotion, design and innovation,' CEO Aurélien Hivonnet says. The upholstery is a melange of 100 per cent recycled cotton and polyester – a clear reminder that it is possible to choose comfort while remaining eco conscious.
6. Great lengths
Who says that art should only live in picture frames hanging up on the walls? Well, certainly not Pierre Frey, the company is inspiring you to travel through art and let your drapes open you up to a world of beautiful landscapes.
'The Panoramic collection is an example of how you can bring artwork to life within the home using luxury fabric and textiles,' founder, Patrick Frey, says. Detailed fabrics can add interest and create drama, but don't discount the effect that even a simple design can have. If you choose a ceiling to floor length hanging, it can still create the wow factor you may be seeking.
7. Be playful
Giorgetti's showroom at this year's In The City reminds us that if we're not having fun with our interiors and bringing friends and family together, then what are we doing with our free time? Their new Flamingo gaming table recalls the atmosphere of the casinos, but also the bourgeois image of the world's most glamorous capitals. As the weather is currently more conducive to indoor entertainment, creating interior spaces that encourage social interaction will contribute to a greater sense of wellbeing.
8. The bright side
Illulian's collection of colourful and patterned rugs are a reminder to consider how your floor coverings will affect your interior scheme. Taking inspiration from travels and architecture, their range of antique and contemporary style rugs demonstrate how different themes can be complementary.
This new Limited Edition collection features floral and vegetal motifs – organic shapes vividly celebrate colour and show that your interiors can be bright and beautiful. Try mixing your own vintage items with new, in doing so you can add charm and timeless elegance, while ensuring that your interiors don't look passé.
9. Great escape
Even if your holiday is a long way off, Rubelli is encouraging you to travel through its collection of textures inspired by 'Fragments of Venice'. Recreate the sense of a luxurious retreat at home, and create rooms where you can truly escape by surrounding yourself with visions of where you'd most rather be.
Line your walls with a covering that evokes nostalgia, or reupholster a tired chair using a fabric picked up from your travels abroad. By filling your spaces with items you put thought into and really care about, there won't be much need to stray far from home.
10. Natural beauties
Use floral prints to bring the outside in, this trend is timeless and effective. 'Nature nurtures us and is a continued source of design inspiration for our new collection, which also pays homage to the Arts & Crafts movement which resonates more today than ever before,' founder, Camilla D. Fischbacher, says. 'Our new SS23 collection is called Seeking Beauty and I really wanted it to showcase that in this day and age, we want to surround ourselves with authentic, handmade products that provide a conscious counterpoint to fast-moving trends.'
11. Never fear
The Prelle and Uchronia collaboration is a bold experiment that is unapologetically colourful. It successfully unites striking orange, blue and purple hues to reawaken the senses. Take this as your call to action to infuse your interiors with daring shades that you like, but may have been reluctant to incorporate. Founder of Uchronia, Julien Sebban, says his office features a lot of orange – it's a great way to add warmth.
12. On display
So tidying up is not something you'd list as a pastime, and cutting the clutter in order to create restful spaces is a bit more than a passing trend. It really should be a way of life because it's known to work wonders for your mental health.
Whether you're keeping tableware in a beautiful sideboard or arranging coffee books on side tables, when there's a place for everything and everything has its place, the sense of pride, peace and tranquillity it will evoke is simply priceless. Emerging Spanish architect and industrial design studio, Tornasol, have created a smart new way to display your favourite reads, which will encourage guests to browse through your collection of literature.
Follow House Beautiful on TikTok and Instagram.
---