The 1970s Is The Most Influential Decade For Interior Design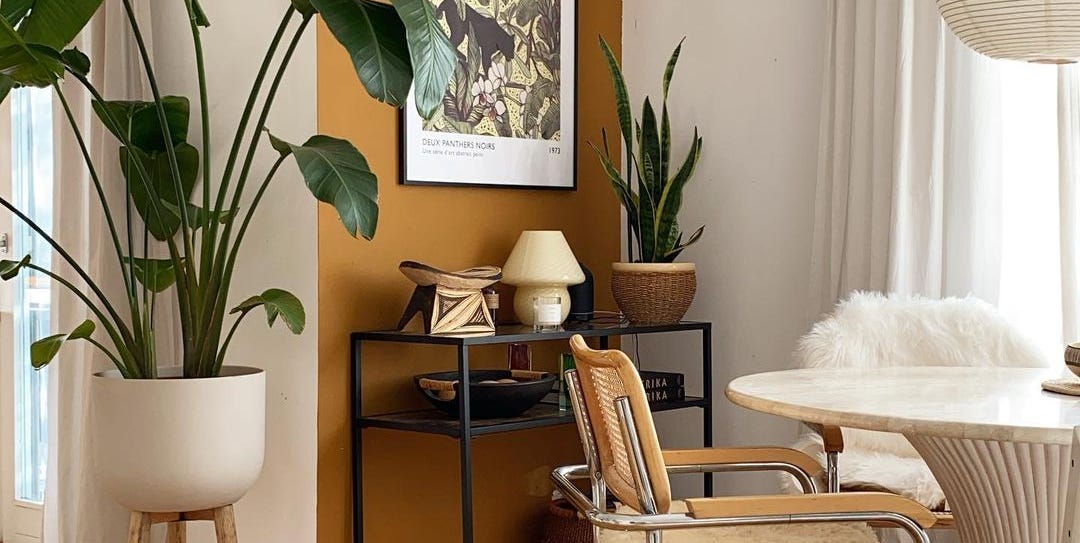 The 1970s is the most influential decade when it comes to furniture design, according to independent furniture retailer, Barker and Stonehouse.
While some design fads from that period haven't come back into style – we're looking at you, carpeted bathrooms – there are other trends that we've been styling in our homes for years now, and in 2023, the 70s aesthetic is coming back big.
Barker and Stonehouse used average monthly search data to identify the five most popular decades for home décor inspiration from the last 75 years. The 1970s topped the list, followed by 1960s, 1980s, 1950s and 1990s.
Catharina Björkman, style expert at Contura, calls it the 70s revival, rooted in nostalgia with earthy tones, patterned wallpaper, geometric shapes and the reintroduction of materials like velvet, bamboo and rattan.
'The easiest way to embrace this trend is to introduce an eclectic mix of velvet armchairs, rattan furniture, mushroom lamps, quirky knick-knacks, and the all-important retro drinks trolley,' Catharina explains. 'And don't forget the importance of the humble houseplant, which really rose in popularity in the 1970s – pothos, spider plants, ferns, ficuses and snake plants will all help you achieve the right 70s vibe. If you want to go all out, invest in a dimmer switch, which will allow you to recreate the mood lighting synonymous with the era.'
Kelly Collins, Interior Designer and Head of Creative at Swyft, describes this revival as 'an evolution of the mid-century modern craze' that has dominated the industry for the past few years. Rich, earthy tones like terracotta and warm browns, with a mix of layered textures and big patterns, is key to this trend. Even Taylor Swift harkened back to a 70s aesthetic for her latest album, as noted by Matilda Martin, Trend Specialist at paint brand Lick.
'Following Taylor Swift's new album, Midnights, we are noticing a revival of the popular 70s interior aesthetic. This decor style is relaxed and fun, evocative of the free-spiritedness and optimism of the 70s era,' says Matilda. 'Warmth emanates from a 70s-inspired home, largely through its colour scheme. People are adding that 70s groove and energy into their homes by incorporating earthy browns, terracotta reds and oranges and opting for low lighting in the form of the iconic mushroom lamp.'
So, where to begin? To incorporate seventies chic into your own home, focus on 'key materials and furniture items that are reminiscent of the decade,' says Helena Davies, Head of Home Buying at Barker and Stonehouse. Whether you want to fully embrace the trend or introduce it in small doses, Barker and Stonehouse reveals its top three style icons to help you add some 70s flair.
70s style icon 1: Rattan
Natural textures such as rattan has been a big hit in interiors, thanks to its neutral tones. For the interior, think rattan light fittings, chairs, chest of drawers and storage baskets. But rattan is also ideal for using outdoors, so if you're already dreaming of warmer summer days spent enjoying the sunshine in the garden, you might want to look at investing in some rattan garden furniture.
'The return of rattan has seen furniture styles come through in new shapes and colours. So, if neutral isn't your thing, why not tap into this iconic seventies woven trend with a couple of striking black rattan pieces? Or you can mix and match rattan dining chairs in different styles for a fun, experimental feel,' says Helena.
70s style icon 2: Velvet
There's something about velvet that we can't get enough of. From the sumptuous feel and rich, luxurious colourways that it tends to come in, to the instant impact that it adds to any space, we've been incorporating velvet textures into our homes for a while now and we don't see ourselves stopping anytime soon.
A great way to add a pop of colour, opt for emerald green, millennial pink or yellows and golds to give a bold nod to the seventies, from your living room to your bedroom.
70s style icon 3: Cantilever chairs
These L-shaped frame chairs were huge in the seventies but continue to be a great option for dining room and home office seating today. Combine the trends by choosing a velvet upholstered cantilever chair or one with rattan detailing.